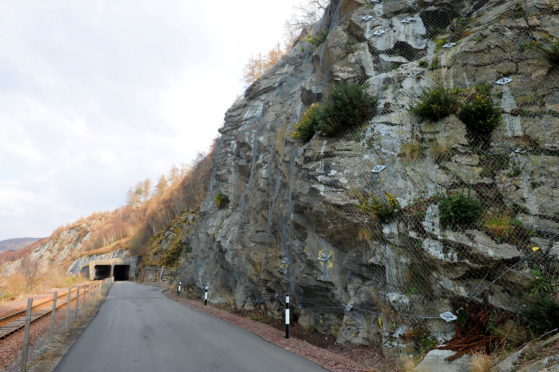 Road users in the Stromeferry area look set to be in for a torrid few months due to major works on the bypass.
Essential maintenance on the landslide prone route is scheduled to take 12 weeks to complete and there will be nightly closures throughout that time.
The winding A890 along the southern shore of Loch Carron will be shut for the entire period of operations from 10pm to 7am – though this will not affect emergency vehicles.
The road will be closed between two permanent road closure gates at Ardnarff and just to the west of Attadale – that means a 130 mile diversion for anyone wishing to drive from Stromeferry to Lochcarron.
The Highland Council revealed that from September 3 for the first two weeks there will be traffic control in operation during the day.
That is to allow the contractor up to two weeks to install a road on rail bypass –a system that resembles tramlines on a street.
Once that is complete it will allow road traffic to drive onto the Kyle of Lochalsh line with a timetable in place to avoid passing trains between 7am and 10pm.
Once the rock works have been completed the road to rail bypass will be removed with the road fully reopened by November 24.
The Council will be printing and distributing cards from mid-August onwards in the local community with details of the road to rail diversion operating times.
A council spokesman said: "We have worked closely with Network Rail to keep disruption to road users to a minimum when the road/rail diversion is in place but inevitably there will be times when road users will face longer waits so we urge people to plan their travel carefully and avoid the periods when the diversion is not going to be available."