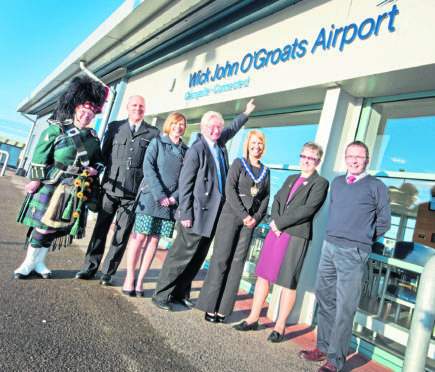 The future of commercial air connectivity in the far northeast of Scotland has been described as "fragile" with urgent government action needed now.
Transport and business partnerships in Caithness and Sutherland are pressing for one of the routes into Wick's John O' Groats airport to be given Public Service Obligation (PSO) status.
They want the Scottish Government to subsidise a route at a time when the region looks set to attract major businesses connected with the proposed spaceport and the burgeoning offshore renewables sector.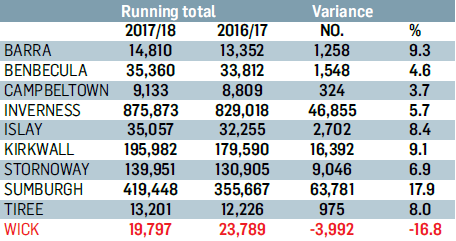 Trudy Morris, chief executive of Caithness Chamber of Commerce said a PSO route to Wick would put Caithness and Sutherland on an equal footing with many remote and rural communities elsewhere in Scotland well-served by air routes.
She said: "While most of these are island-based, there is precedent in mainland communities such as Campbeltown being served by PSO routes.
"Unfortunately, the economics of regional airlines are becoming harsher with every year, and this constrains what is possible from a purely commercial offering.
"We feel that now is the time for Scottish Government to step up and help deliver the connectivity that we need."
Caithness and North Sutherland Regeneration Partnership (CNSRP) say recent changes in flight connections to Wick airport have rendered it "commercially fragile" and action should be taken now to pre-empt future problems.
In 2017/18 passenger numbers fell by 16.8% on the previous year.
Eann Sinclair of CNSRP said the latest problems stem from changes made by the two airlines serving Wick- Aberdeen (Eastern Airways) and Wick- Edinburgh (Loganair).
He said carriers' recent changes in the frequency and timing of flights into Wick's John O' Groats airport had seen a drop off of passengers, with more people opting to drive.
Eastern Airways introduced Sunday flights in February 2018; revised the weekday programme and the Sunday flight was removed as of June 2018.
Loganair revised its timetable from September 2017, plus there has been a recent short-term alteration to remove Tuesday flights for July and August.
Mr Sinclair said: "The Aberdeen route has been particularly affected. Changes in the oil and gas market have made businesses more sensitive to price."
A Transport Scotland spokesman said:  "These services already benefit from significant indirect financial support through the Scottish Government's subsidy of Wick Airport and the inclusion of routes in the Air Discount Scheme, which allows residents to claim a discount of up to 50%."