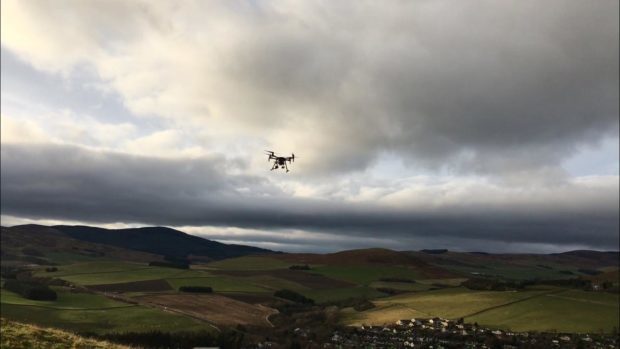 Mountain Rescue Team members will be recruited to learn to fly drones – and help to locate people in the most inaccessible places.
The newly-formed Search and Rescue Aerial Association Scotland (SARAA-Scotland) is to use the remote-controlled craft to save people who are lost, missing or injured.
It is thought to be one of the most significant developments in mountain rescue since search dogs were introduced in the 1960s.
The Association became a charity in July and is based in the Borders.
Volunteers will undergo special training to fly the drones by York-based Flyby Technology which only has instructors who are ex-military or are civilian aviation instructors. They are led by former RAF fighter pilot and instructor Jon Parker and run courses nationwide including in Edinburgh and Aberdeen.
Scottish Mountain Rescue carried out a feasibility study to look at how drones could help in search and rescue operations. There was a clear need for them and SARAA-Scotland now has one drone that is operational and hopes to have another five in action by early next year.
A top quality drone would cost £30,000 including a thermal camera and the latest high technology zoom camera – but at the moment SARAA-Scotland is aiming to get more of the middle-cost drones to cover as much of the country as they can and the one they are using now was bought for £3,500.
The team's aim is to eventually provide cover for most of Scotland and SARAA-Scotland has been formerly recognised by Police Scotland because their high quality training.
SARAA-Scotland's trained operator is Tom Nash who served 15 years in the RAF as a Tornado navigator operating thermal cameras, targeting systems and weapons.
"Flyby Technology's aviation knowledge is second to none," he said. "Drone regulations are changing on a regular basis and Flyby will ensure we are trained to the very latest rules and regulations and that's vital support for an organisation like ours which is a charity run by volunteers."
SARAA-Scotland, which is affiliated to Scottish Mountain Rescue, has now put in grant applications in a bid to buy more drones but it is always on the lookout for businesses or individuals to sponsor them.
Chairman Dave Wright said: "We will be recruiting people to fly the drones who are already mountain rescue team members – people with a search and rescue background who can look after themselves out there.
"It's now a case of getting the funds to buy the kit we need, distribute it and train the members and at the start of next year it's hoped we will have six pilots being trained by Flyby."