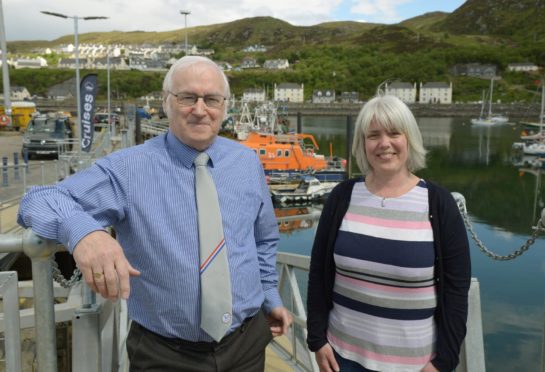 The chief executive at Mallaig Harbour is hanging up his oilskins for the last time, as he takes his leave of his post after 35 years.
Robert MacMillan, now 71, says it is time to spend more time with wife Ann in the garden, but will always have the sea, and seafarers in  his blood.
Over his tenure, Mr MacMillan has seen incredible changes at the busy fishing port used by 80 or more boats each day – to the fishing and ferry port, fish feed store and marina for yachts it is today.
Mr MacMillan said: "Anyone from Mallaig has the sea in their blood. When I left school I didn't go to sea as a fisherman – but I did work for David MacBrayne on the pier, I then worked for the Scottish Fishermen's Association and then Mallaig and North West Fisherman's Assocation."
---
Local and Proud: Follow our new Facebook page dedicated to the Highlands and Islands
---
"When I started with the harbour authority,  it was very much about the fishing with those who came about for the herring, and then those who were looking for the white fish, and now the market for shellfish and prawns.
"Lots of changes have taken place over the years – including being part of the team who improved the road to Mallaig in 2009.
"With the downturn in fishing, we had to diversify and that has meant looking after the fishing boats as well as looking for new opportunities. They have including building a breakwater, encouraging yachts and a 1,000 tonne store for fish food."