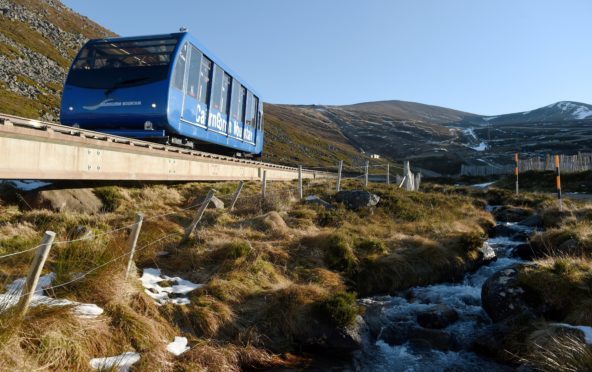 Highlands and Islands Enterprise has detailed how it will bring the stricken Cairngorm funicular back to life.
Bosses yesterday confirmed it will remain out of service during winter 2019-20, such are the extent of the repairs needed.
A combination of public procurement regulations and extreme weather conditions over winter mean that the earliest a programme of repairs could begin would be spring or summer 2020.
But they have also reiterated their commitment to repair the vital structure and return the mountain railway to service.
The funicular was taken out of service in October 2018 due to serious concerns for its supporting structure.
Further inspections by specialist engineers have found that it presents "no immediate danger to the public".
They have, however, also concluded that piers, beams and foundations all need to be strengthened and install new bearings before the attraction can reopen for business.
While it is not running, snowsports access will be maintained through a combination of artificial snow-making at lower levels and ski tows to the higher runs.
US-based consultants SE Group have detailed investments that could help to improve the visitor experience and generate more business.
Proposals for winter include a new aerial chairlift featuring six-person lifts; enhanced snow making, and improvements to the terrain on the mountainside, including smoother runs and additional skiing routes.
A 'carpet conveyor' would improve the beginner experience and actions to improve the base area facilities and increase food options are also recommended.
Taken together, these improvements are designed to bring Cairngorm close to achieving its previous ski visitor numbers of around 130,000 a year.
Douglas Cowan, director of communities and place with HIE, said: "Cairngorm is a key asset for Scotland, both environmentally and economically, and the funicular is a key asset for Cairngorm.
"It's absolutely vital that we continue to address the serious challenges caused by the funicular being out of action and ensure that Cairngorm Mountain remains a significant driver of the local economy."
Mike Gale from Aviemore Business Association, has however been underwhelmed by some of the proposals and, in particular, does not believe a chairlift is a viable option.
He said: "I'm surprised they are suggesting a chairlift in the meantime because, realistically, how long do you think it takes to put in a chairlift?
"Even if they get the go-ahead, they won't start building another chairlift until next summer, which then won't be open until the funicular is open, so how can that be an interim measure?
"We welcome more uplift as that's what the hill needs and what it has been needing for 10 to 15 years now, but it's not something for the interim, because it's just not going to be built in time."
MSP Edward Mountain, meanwhile, said he was "disappointed" there are still no costings for "the substantial repairs to the funicular railway".
"Residents and businesses in Strathspey deserve better than the lack of clarity and urgency from HIE," he said.
Susan Smith, interim chief executive of Cairngorm Mountain (Scotland) Ltd, said it had been "a difficult period" but that staff were "absolutely dedicated" to the mountain and the business.
She praised them for their "tremendous efforts to create a brighter future".