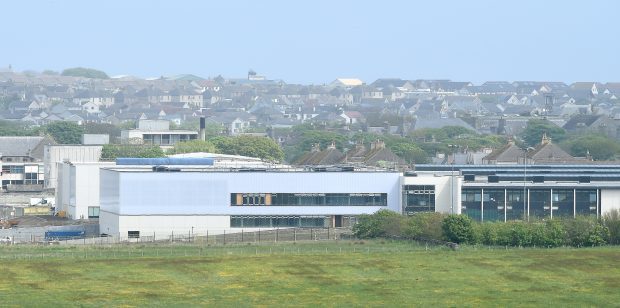 Problems continue to blight the Wick High School campus with the latest hitch set to put the main games hall out of use for outside lets for part of the summer holidays.
Highland Council yesterday confirmed that work is needed to deal with 'dead spots' in the floor, which had been affecting gym lessons and hires from community sports clubs.
The east Caithness community campus, which also includes Newton Park primary and a community swim pool and library, was opened in May 2016 since when it has been hit with heating, ventilation and IT issues and design flaws.
The games hall had to be taken out of commission for a spell soon after the opening after a roof leak damaged the floor and its lines had to be repainted.
Since then, a number of dead spots have been identified which has led to the need to replace the floor.
The work is in the hands of Galliford Try, which has a design, build, finance and maintenance contract with the building owners, Hub North Scotland (Wick).
A spokeswoman for Highland Council said yesterday: "A number of dead spots were identified on the games hall floor which we agreed to monitor to see if the situation improved as the floor settled down. Unfortunately, these dead spots did not improve. To minimise any disruption to curricular activities, we agreed that any remedial works should be carried out over the summer holidays."
Galliford intend carrying out the work to replace the floor between July 25 and August 2.
The council spokeswoman added: "Unfortunately, community lets will need to be cancelled whilst these works are completed."
Investigations are meanwhile to be carried out on Newton Park's games hall floor and the dance studio floor to assess whether they also need to be relaid.
The spokeswoman said all the work are being carried out at no cost to the council in line with its contract with  the Galliford contract.
The £48.5 million complex opened three years late and £10 million over budget.