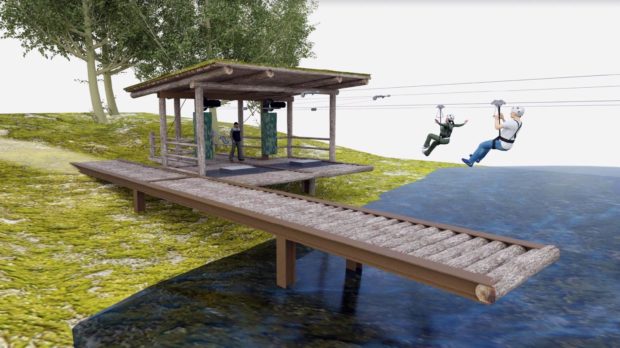 Campaigners opposed to a zipwire tourism development in a Highland village have called for calm after the proposal has left the community split.
One protester in Kinlochleven has called for residents and unite to look at a better future.
As campaigners went head-to-head with supporters of the plan there followed allegations of bullying, verbal street fighting and neighbours falling out with former friends, attracting the attention of police and local councillors.
If approved by Highland Council, the double zip wires from high in the Mamore mountains onto a floating pontoons on the banks of Loch Leven in the village of Kinlochleven will be the longest in Scotland and could create 35-40 jobs.
Now, one women who is leading the opposition group has said the community needs to come together for the good of the village.
Tracey Connell, speaking on behalf of the Kinlochleven Zip Wire Opposition Group, said it will continue to campaign for proper investment in the community whatever the outcome of the planning hearing set for later this year.
But she added: "Our wish is that the community will want to work together for a better shared vision of the future for all residents and visitors alike.
"We called ourselves the Kinlochleven Zip Wire Opposition Group – because we wanted to be honest about our motivation in opposing the application.
"We have gone from strength to strength on Facebook, in Kinlochleven itself and across the global community of diaspora and tourists, we now have 337 members on our Facebook page.
"We launched a petition that has 1,209 signatures and we have 83 formal opposition comments lodged with the Highland Council Planning department.
"For the future, our work is on-going and we will continue to raise awareness and oppose this unpopular and divisive development until it is put before the planning committee.
Kinlochleven Community Trust board member, Sarah Fanet – a supporter of the zipwire project – pointed to the setting up of a social media community group, Kinlochleven Past and Present, that has attracted more than 1,200 members in few days.
Ms Fanet said: "There is a lot of hope about the future of Kinlochleven."
A community day has been planned for August 31 in The Leven Centre, Kinlochleven.