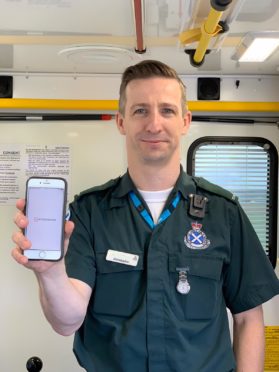 An ambulance technician has revealed how a new mapping app played a vital role in rescuing an injured walker quickly.
Christopher Adams is encouraging people to download what3words after it proved it help him track down the woman in Stornoway.
She had had tripped and injured her ankle on a coastal walk, but struggled to tell rescuers where exactly she was.
Mr Adams and his colleague were sent to her aid, and en-route requested the assistance of the coastguard and their all-terrain vehicle.
As they made their way to the scene, Mr Adams remembered he had the what3words app on his phone and managed to pass on more specific information to the coastguards.
"Thankfully our in-cab technology was able to give us a strong signal as to where the patient was, so we got parked up quite close and proceeded on foot," he said.
"I don't know why it came to my mind but I remembered I had the what3words app on my phone, so we radioed control to pass onto the attending coastguard our location."
The app, which has narrowed down the world to 9ft by 9ft boxes, assigns a unique three words to the location, making it instantly recognisable.
He added: "Ness and Bragar Coastguard Team were there around five minutes after we had made contact with the patient.
"This 100% saved valuable time.
"The weather was coming in as we started making our way and the heavens just opened.
"For everybody involved, and not just the patient, it was valuable to get out of the weather."
Mr Adams is now encouraging people to download the app, adding: "This could be a potentially lifesaving piece of kit.
"For anyone heading out to a rural location, whether they are going to the peats or going out hill-walking, have the app ready as you don't know when it might be needed.
"It made our job a million times easier  and went a long way to getting a woman off a cold and wet moor and into the hospital."
Murdo Macaulay, the coastguard's area commander, said the use of the app was "incredibly valuable" in securing a positive outcome.
Giles Rhys Jones, of what3words, described the use for emergency service assistance as "humbling".