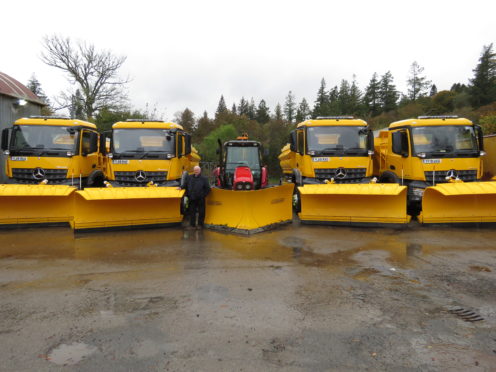 The fleet of gritters in Argyll has increased as the local authority took delivery of 17 new vehicles.
They will treat 52% of the county's road network when dangerous conditions are forecast.
Primary school children throughout Argyll and Bute have been invited to think up a name for one gritter in each of the four local administrative areas.
The winners will see their chosen name on a plate on the side of the vehicle.
There are 32 gritters  in total ready for action, and two spare in case of breakdown. A further six vehicles, as well as tractors and "V" ploughs, that can be deployed if necessary.
Councillor Robin Currie, Policy Lead for Housing, Roads and Infrastructure Services, said: "I very much look forward to seeing what names our imaginative young people suggest for our new gritters.
"Our winter vehicles play an important part in our day-to-day lives so it's important we recognise this.
"We have taken delivery of brand new, state-of-the art vehicles that can control the quantity, width and mix of salt and grit spread on the road. We've selected different sizes and types of vehicles needed for the variety of roads in Argyll and Bute and with different capacities to make sure they do the job for which they're required.
"I'd also like to take this opportunity to pay tribute to our roads workers. They are up in the early hours when it's cold and icy."