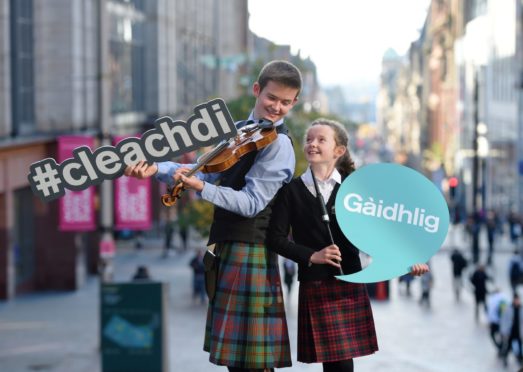 A row erupted yesterday when Tory education spokeswoman Liz Smith criticised Western Isles Council's plans to teach young pupils using Gaelic as their main language.
Ms Smith, the shadow education secretary, faced calls to apologise for describing the move as a "deeply troubling step" and arguing that the Gaelic language should not be promoted at the expense of English.
Her remarks provoked an angry response from her political opponents, with SNP Finance Minister and Gaelic speaker Kate Forbes tweeting: "Speechless.
"As a product of Gaelic-medium education, I'm personally offended and bemused because most Gaelic-medium students could talk more sense than whichever Tory said this."
Highland Green MSP John Finnie said: "Liz Smith's comments are as offensive as they are inaccurate.
"The reasons behind the historical decline of Gaelic in the Western Isles are well documented – as are the benefits of bilingualism.
"Ms Smith would be well advised to read up on both.
"She should also apologise to my constituents, the Comhairle (council), and everyone who has worked so hard to increase the profile of Gaelic in the Gaidhealtachd in recent years."
Ms Forbes and Mr Finnie were reacting to Ms Smith's views, which were quoted in the Scotsman newspaper.
Ms Smith said: "This is a deeply troubling step and one that could put children in the Western Isles at a distinct disadvantage to their peers.
"Gaelic is a rich and beautiful language and one that should be encouraged at school, but not at the expense of English.
"This worrying move will inevitably put pressure on primary children in the Western Isles to speak Gaelic for those first crucial years of school.That could have all sorts of consequences that have clearly not been considered fully."
A new Gaelic First policy has been introduced by the islands council in a bid to help boost use of Gaelic and to give local children the benefits of being fluent in both languages.
The change means that the default language of education for the local authority will be Gaelic from P1 until P4, although schoolchildren's parents have the power to opt out of the scheme.