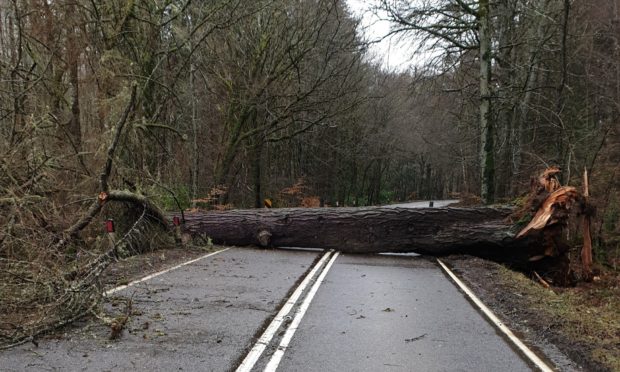 A Highland motorist has criticised Bear Scotland for not carrying out appropriate safety checks after a tree came down in front of him during Storm Dennis.
John Mowatt was travelling north along the A82 from Fort William to Inverness when a large tree crashed to earth just seconds in front of him, north of Invermoriston.
The 53-year-old was forced to turn back to Fort Augustus before driving up the right hand side of Loch Ness along the B852 towards Inverness as the popular road remained blocked.
Following the incident, the transport manager explained how he could "still see the branches of the tree shaking" upon approach, just seconds after it came down onto the Highland route.
He said: "It's the first time it has happened to me and I have been driving for years. I was driving quite slowly because of the road conditions.
"When I was standing down there, a local gentlemen came along and he also made the comment that it has been like this for weeks. You could see the bleeding on the tree."
Police were called to the scene– less than 30 miles outside Inverness – shortly before noon following numerous calls from concerned motorists.
A police spokesman said: "We received the first call at 11.45am about a tree which had fallen onto the road on the A82 north of Invermoriston."
Mr Mowatt criticised Bear Scotland for not carrying out the appropriate checks to prevent such eventualities from taking place.
He added: "The main road into Inverness, whether it is potholes or trees falling, is horrendous. It's a horrendous road to drive and it's getting worse.
"Why has Bear Scotland, the Scottish Government's contractor who is supposed to do checks on that road every day not seen these trees leaning at a severe angle?
"The tree that came down has been at an angle for months."
A Bear Scotland spokeswoman said: "All of our routes, including the A82 through Invermoriston, are subject to weekly safety checks to identify if any work, including tree removal or other landscaping activities, is required.
"Trunk road safety remains our top priority and we'll continue  to carry out routine safety patrols across the network and respond to any issues."
She added: "We thank all road users for their patience while we deal with any incidents during the storm and encourage them to drive to conditions if out."