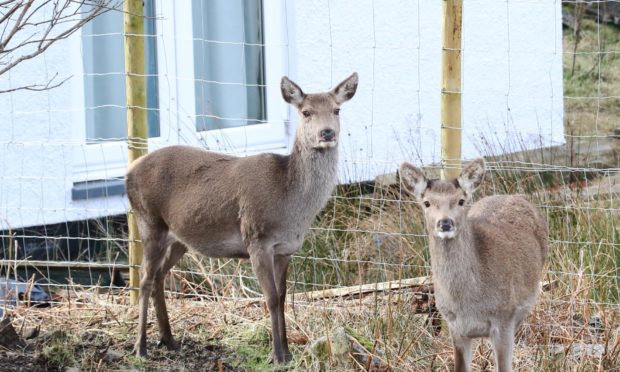 A Highland village is holding crisis talks, following reports that deer have been accused of terrorising residents and causing tick infestation and Lyme disease.
Assynt Community Council has demanded urgent action and is now considering a cull following the problems in Lochinver, Sutherland.
Cars have been damaged and gardens trashed, with reports of the animals becoming increasingly aggressive.
One bed and breakfast owner, Mary Kelly, said she was chased by a stag with "huge" antlers while walking her dog at the local football pitch.
In a post on Assynt community council's Facebook page, secretary Peter Jones, who was also chased by one of the animals, stated: "The issue of deer wandering freely along the streets of Lochinver has once again been brought to the attention of Assynt Community Council as a matter requiring urgent attention.
"In the past, we have weighed the inconvenience of deer fouling the pavements and the play park against the perceived attraction they present to tourists visiting the area. But an increase in deer numbers over the last two years has brought matters to a head."
He warned: "There has been an increase in tick infestation in and around the village and a number of cases of Lyme disease. This is of particular concern now that deer are frequently grazing on the children's play park."
Attempts to keep deer out with special fencing has failed and proved a costly exercise.
Once the deer enter the village, they are often unable to get out again, which has led to them becoming over-familiar with the human population.
Mr Jones continued: "We are desperate to find a way to deal with the deer problem in the village. One solution is to carry out a controlled cull.
"The ACC accepts that there are sensitivities around this. However, we feel strongly that the health and safety of the community and its visitors are more important. There are plenty of deer to be seen elsewhere in Assynt within their natural environment.
"We intend taking up this matter with the West Sutherland Deer Management Group in order to reach an amicable solution.
"In the meantime, we invite members of the local community who have strong feelings on this issue to make their feelings known by contacting one of your local community councillors or emailing us at assyntcc@gmail.com "