VIDEO: Three days of thunderstorms on the way for the north as Met Office issues warning
By
Stuart Findlay
June 24, 2020, 11:17 am
Updated: June 24, 2020, 11:20 am
Two severe weather warnings for thunderstorms have been issued for the north and north-east.
The first covers most of the west Highlands and the Western Isles and comes into effect at 4pm tomorrow, lasting until 9am on Friday.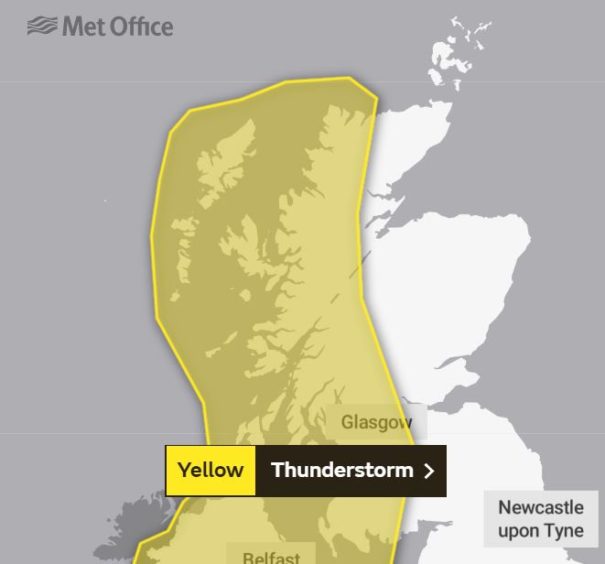 A statement from the Met Office's chief forecaster said: "Whilst many places will be dry or see little rain, thunderstorms may cause flooding and disruption in a few places.
"There is a small chance that homes and businesses could be flooded quickly, with damage to some buildings from floodwater, lightning strikes, hail or strong winds
"Spray and sudden flooding could lead to difficult driving conditions and some road closures
"There is a slight chance that power cuts could occur and other services to some homes and businesses could be lost."
After a brief respite, a second warning for thunderstorms comes into effect at 12pm on Friday and lasts until 6am on Saturday morning.
This one covers most of Scotland, although the Western Isles should avoid the worst of the conditions.
The stormy conditions arrive on the back of a rise in temperatures across the UK.
Aviemore is expected to see a high of 25C tomorrow, but further south many places will be seeing temperatures in the high 20s or low 30s.
The #UKHeatwave started yesterday, and will continue today and tomorrow with max temps in the high twenties or low thirties for many 🌡️ pic.twitter.com/dXVklpHrh9

— Met Office (@metoffice) June 24, 2020
Aberdeen is expected to hit a high of 21C today.
Experts have been warning about the health risks of heatwaves ahead of the higher temperatures this week.
Warnings have been issued about UV levels, which are going to be "exceptionally high" over the next couple of days.
Met Office meteorologist Alex Burkill told the PA news agency that UV levels will be "reaching eight across many places and will be reaching nine across parts of Devon and Cornwall tomorrow.
"That's about as high as it gets really in the UK.
"The sun is as strong as it gets at the moment because we're so close to the solstice.
"We've got peak sun strength, clear skies, plenty of sunshine – it's the perfect ingredients for high UV."
Mr Burkill advised anyone outside for prolonged periods of time today and Thursday to take measures to protect themselves.
Shoppers have also been advised to be aware they could be forced to spend extra time in the sun as a result of social distancing measures.
Blue sunny skies for many places today ☀️

Take care in the sunshine as #UV levels are very high across much of England and Wales 🧴 pic.twitter.com/rkm4uVe8qS

— Met Office (@metoffice) June 24, 2020
Dr Lynn Thomas, medical director at St John Ambulance, said: "You could end up in the sun for longer than expected on what would normally be a quick journey, such as queuing to enter the supermarket, so you should be prepared to look after yourself and others."
She added: "Heat exhaustion and heatstroke are two of the most serious problems that can develop when the mercury soars but by being prepared you can spot the early warning signs, such as headache and dizziness."