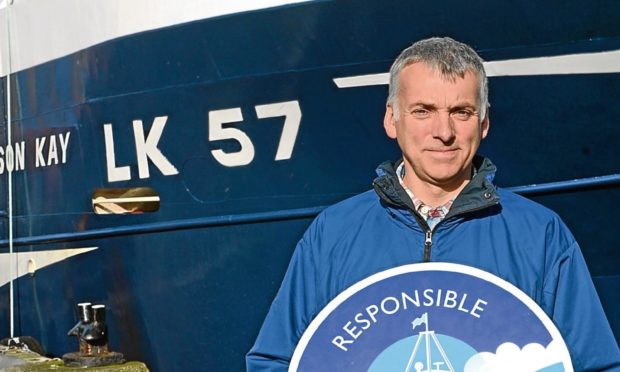 A Shetland skipper has criticised German authorities for lack of action over an incident when an alleged attempt was made to disable his trawler.
Videos posted online appeared to show the Spanish-owned, German-registered 'Pesorsa Dos' trying to foul the propeller of the 'Alison Kay' last month.
Scottish fishermen say there have been a series of similar incidents involving foreign boats who are increasingly in conflict over fishing waters and catches around the UK coast.
The Maritime and Coastguard Agency (MCA) could not take action as it occurred outside its 12-mile jurisdiction, but raised concerns with German authorities.
But the Federal Police Department for Maritime Security in Germany told the Press and Journal: "After reviewing the documents and records available here, there is no suspicion of a criminal offence under German law.
"There will be no further investigation."
Alison Kay skipper James Anderson said he was not interviewed by the German police or asked to give a statement on the incident
""They haven't asked me any questions, so I'm amazed," he said.
"I don't think there has been a very thorough investigation.
"They've seen the video and just left it. If that can happens folk will end up taking it into their own hands and think 'If they can do that to me, then we can do it to them'.
"Something should have been done because, if it becomes the case that the only way to deal with this is to do the same back, it's not going to end well.
"We get intimidated the whole time. Someone has to ask what's going on when they can do that. It's one rule for them and a different rule for us.
"If you bump somebody's car in a supermarket car park the police would be on to you and yet this boat came up alongside, within a few inches of us, and tried to foul the propeller at sea and nothing happened. It's just not good enough."
Orkney and Shetland MP Alistair Carmichael said the decision is "deeply disappointing" and suggests statements have not been taken from those involved.
"I will be quite happy to obtain these statements and forward them on. I am surprised that they have not done this for themselves.
"It gives the impression that any investigation was somewhat less than rigorous. You will not find evidence if you do not look for it."
Brian Isbister, chief executive of the Shetland Fish Producers' Organisation, added: "It's incredibly disappointing that the actions of that particular skipper, which were completely and utterly unreasonable, haven't been investigated and deliberated on further."