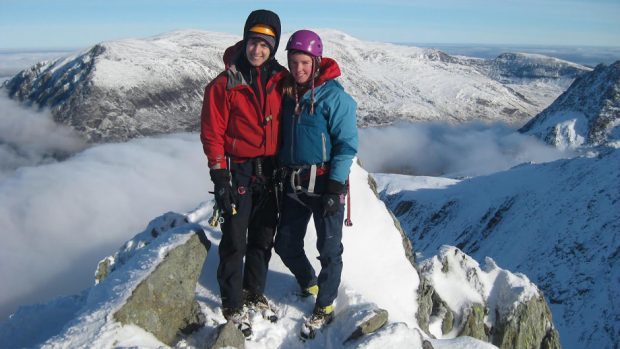 The families of a climbing couple who died in an avalanche on Ben Nevis on Valentine's weekend said they took comfort from knowing they were "doing what they loved".
Rachel Slater, 24, and Tim Newton, 27, were reported missing on February 15 when they failed to return after setting out to climb on the UK's highest peak.
Two bodies were discovered on the 4,412ft mountain on Wednesday evening and police yesterday confirmed they were Ms Slater and Mr Newton, from Bradford.
Last night, their families issued a statement thanking everyone involved in searching for the couple, who were both experienced climbers.
They said: "We would like to thank the mountain rescue teams, climbing community, police in Fort William and all concerned for finding Rachel and Tim, bringing the news we have been waiting for and for their sustained efforts over the last six weeks.
"These brave and generous men and women have worked incredibly hard to find Rachel and Tim in difficult and dangerous conditions.
"The Lochaber Mountain Rescue Team (MRT), police, climbers, friends, family and wider community near and far have been overwhelmingly supportive, generous and kind throughout this difficult time.
"We have received thoughts, prayers, and messages of kindness from all over the world.
"Although much anticipated, it still comes as a shock, but we are thankful that we can now move forward with our lives in the knowledge that Rachel and Tim were doing what they loved to do.
"Climbing was their passion, they loved the mountains, wilderness and outdoor spaces."
They added that Rachel was also known as Yvonne at Junior High and High School in Calgary, when she lived with her family in Alberta, Canada.
Lochaber MRT Leader John Stevenson said they had been caught in a "huge avalanche", which swept hundreds of feet down the mountain to the base of Observatory Gully.
He added that the couple were only a 15-minute walk from their tent, which was near the CIC hut, when they are found about 13ft apart.
Mr Stevenson did not believe they had started climbing as they were not wearing their climbing gear.
He said: "A climber on Ben Nevis saw a coloured jacket in the snow at the base of Observatory Gully in the remains of a huge avalanche and contacted the police.
"We got there and recovered the first casualty, then used snow probes to find the other one, which we discovered about 10 to 15 minutes later."
Mr Stevenson added that they had searched the area before, but the couple would have been buried at the time.
He said: "The snow had receded a lot since then – there was about six to eight feet less by the time they were found.
"It's a hard thing to do, but we just get on with it.
"We look at it as getting them home for their families' sake."
Lochaber area Inspector Donald Campbell said: "We hope that this identification provides some form of closure for the families of Rachel and Tim, who have bravely endured the agony of not knowing.
"They have our deepest sympathies at this very difficult time."