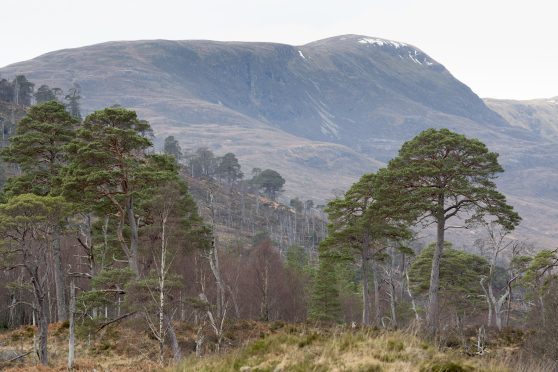 An appeal has been launched for £500,000 to buy and restore an ancient Caledonian pine forest in Lochaber that was used for Commando training during World War II.
Woodland Trust Scotland is working with the local community on the project at Loch Arkaig Pine Forest, near Spean Bridge.
The forest, which is being sold as surplus through the National Forest Land Scheme, is split into two areas, covering a total of 2,500 acres and representing 10 per cent of the remaining ancient Caledonian pine forest in Scotland.
It is currently in a degraded condition, but provides a home for some of Scotland's most important wildlife, including ospreys, sea eagles and red squirrels and may host threatened species, such as wildcats and Scottish crossbill.
The picturesque woodland also has an interesting history.
It was used as a training ground for the first Commando units, based at nearby Achnacarry Estate, and hundreds of scorched Scots pine trees that were burned in a forest fire started during a training exercise can still be seen.
The area is also linked to hidden Jacobite treasure, known as "Lochiel's Gold" and, according to legend, Loch Arkaig has its own resident kelpie or water horse.
If Woodland Trust Scotland's funding appeal is successful, it will work with Arkaig Community Forest to restore the forest back to native woodland, with the local group taking ownership of around 120 acres of the site.
As well as helping wildlife, the restoration of the forest will benefit local people through improved access and involvement in woodland management, creating local jobs in a remote rural area.
Woodland Trust Scotland director Carol Evans said: "Restoring this forest is a spectacular opportunity to benefit both people and wildlife.
"It is an immense challenge that will take decades to complete, but we will be safeguarding a large proportion of the dwindling area of ancient pine forest left in Scotland, and helping to increase employment in a fragile rural area."
Gary Servant, of Arkaig Community Forest, said the local community would be directly involved in the management of the site.
He said: "We hope that local people and businesses across Lochaber will benefit from new forest and land-based jobs, as well as from improved opportunities to access and enjoy the amazing woodlands which surround us."