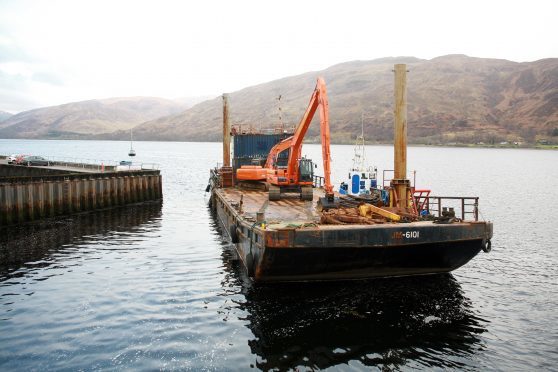 Work has started on installing pontoons in Fort William to boost the local economy by attracting more cruise liners to the Lochaber town.
The £170,000 project, led by Fort William Marina and Shoreline Company Ltd, follows serious difficulties experienced while trying to bring disabled passengers ashore from a cruise liner moored in Loch Linnhe last year.
Association secretary Sarah Kennedy explained that two floating pontoons, providing almost 80ft of moorings, are being installed near the access to the West End Car Park.
She said: "The reason for doing this was the awful experience that a couple of disabled passengers on the Adonia cruise liner had last year when they had to be manhandled onto Souters Lass to get them ashore.
"The cruise ships will still anchor out in the loch, but the pontoons will enable them to bring passengers ashore on tenders so they can get on coaches for excursions or come up into the town."
The next scheduled cruise liner visit is the Fred. Olsen Boudicca, which carries up to 880 passengers and is due to arrive on September 28.
So far, six cruise liners have booked to stop in Loch Linnhe next year and the town is keen to increase the number of visits.
Mrs Kennedy said Boyd Bros were now preparing the pontoon site with the assistance of the Underwater Centre, which is providing a tug to move the barge around.
This work is due to be finished today (Saturday) and, on Monday morning, Gael Force will start installing the pontoons.
The car park will be closed from 7.30am to noon on Monday, 8.30am to 1pm on Tuesday and 10.30am to 2pm on Wednesday while the work is carried out at high tide.
Mrs Kennedy said: "It's all so exciting to see it actually happening after all the time we've been working towards this."
She added that they were hoping the project would be completed by Friday April 22.
Councillor Andrew Baxter, Fort William and Ardnamurchan, said: "It's a fantastic community-led project and hats off to Fort William Marina and Shoreline Company, who put in all the hard work to secure the funding for it.
"I think it will make an enormous difference to the town in attracting, not just cruise liners on Loch Linnhe, but other marine craft as well so we can start to take advantage of our waterfront location."