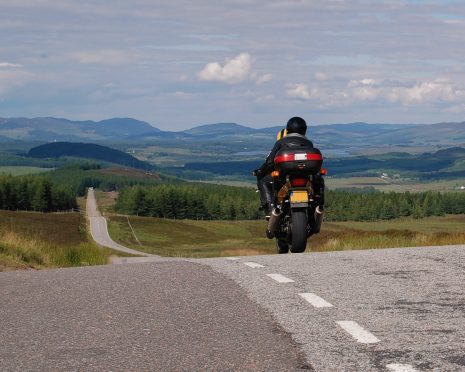 Police have revealed that five motorcyclists were caught riding at speeds of more than 100mph on one north road over the past week.
The shocking statistic follows a spate of motorcycle accidents in the Highlands and Argyll this month, including one in which a biker was killed.
The ton-up riders were snared in Operation Zenith – a national initiative running between March and September of this year with the aim of promoting motorcycle safety awareness.
It is also aimed at enforcing legislation in respect of motoring offences for all road users.
The five motorcyclists were clocked by road policing officers carrying out checks on the A890 Achnasheen to Auchtertyre road, between Lochcarron and Achnasheen.
Inspector Gus Stewart, of the divisional road policing unit, said: "The areas where our checks are focused have been highlighted to us by our communities as being problematic and it is disappointing to find riders travelling at such dangerously high speeds on these roads.
"Our checks will continue and we would encourage the public to inform us of any problem areas, which will allow us to focus our patrols."
He added that motorcycling was an excellent way to explore the Highlands and islands.
The inspector said: "We want riders to enjoy their time in the area, but more importantly we want them to get home safely.
"I would urge riders to be aware of their own vulnerability and ride according to the prevailing road, weather and traffic conditions.
"Our main aim is to reduce the number of road deaths and make Scotland's roads safer.
"So don't risk it, reduce your speed and obey the rules of the road."
A 66-year-old motorcyclist from Belgium, Germain Hubert Deweer, was killed on a single track road in Argyll on Monday May 2.
Two motorcycles were involved in the collision on the B8074 road between Dalmally and Bridge of Orchy.
On Saturday May 7, a 55-year-old Belgian man was left in a serious condition in hospital after a crash on the A87 Invergarry to Kyle road, near the Cluanie Inn, during a motorcycle tour of Scotland.
Two French bikers were airlifted to hospital with "possible leg fractures" following a crash with a car in Argyll on Wednesday May 11.
And the following day, a male biker was taken by air ambulance to Raigmore Hospital in Inverness after a collision with a car on the A835 Tongue to Ledmore road, just north of Ullapool.
There is no suggestion any of the crashes were caused by speed.