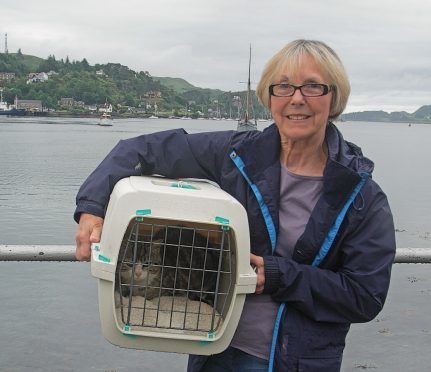 It was a break-in worthy of any cat burglar.
A stowaway feline hitched a ride on a private yacht and travelled 166 nautical miles all the way from the isle of Harris to Oban.
The part tabby, part tortoiseshell cat, one of a feral colony that is fed by the fishermen at Leverburgh harbour, jumped aboard the charter boat when it stopped at Harris on its return to Oban from a trip to St Kilda.
The cat spent the weekend with Oban Vets and is now in the care of Argyll Animal Aid, who are trying to find someone who can take her back to Harris.
The fishermen are keen to have her back with the rest of her family.
The cats keep the mice and rats away from the pier in exchange for fish.
Swift Mile garage, also based at the pier, feed them cat food too as a thank you for their services.
The small cruiser had been on a trip to St Kilda and stopped at Harris on its return trip to Oban.
Jean Sutherland, chairwoman at Argyll Animal Aid, said: "Last week a charter yacht came out of Harris and had a stowaway aboard in the form of a little cat, which wasn't discovered until they got to Oban.
"One of women who was working on the boat was a cat lady and she managed to get it into a cat basket after following it about the deck a couple of times.
"We put a bit on Facebook and also phoned the Harris vet to see if anyone had lost one. He said no, but it was early days.
"Then someone got in touch with us to say that the fishermen on Harris feed a colony of cats and they had noticed one was missing. The fishermen feed them fish and the cats in turn keep the rats and mice away, so they do a job of work."
She added: "The vets in Oban were very good, they looked after her. We have now got her at our cattery. We will keep her until we can hopefully find someone who is going if not to Harris then maybe to Skye where she could be put on the ferry.
"Could anyone please help to get this wee cat back to Harris?
"She is very pretty. She is semi ferral, she is used to being fed.
"The fishermen would like to have her back. It would be really nice to get her back to her colony that she knows, it's her family at the end of the day.
"Hopefully we will get somebody going up that way who wouldn't mind taking her."
If anyone can offer the cat a lift to Harris, please contact Argyll Animal Aid on 01631 566 406.