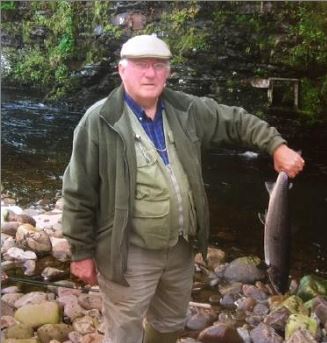 Highland hotelier, councillor and local campaigner David Walker has died in Bonar Bridge at the age of 78.
He moved to Sutherland in the 1970s and, with his wife Margaret, ran the Sutherland Arms Hotel in Lairg for many years.
Under their stewardship, the old coaching inn renowned for fishing and stalking earned a reputation for its friendly atmosphere, good food and stunning location overlooking Little Loch Shin.
Mr Walker was born in Stockport, and in 1953 joined British Transport Hotels as a trainee manager.
Starting on the bottom rung he worked in all departments to glean a comprehensive understanding of the hospitality industry.
He did his national service in the RAF and worked in catering, rising to the rank of acting sergeant.
He returned to the British Transport Hotels in 1958 and during two years in France, Germany and Spain became fluent in both French and German.
In 1960 he was appointed junior assistant manager at The Midland Hotel in Manchester.
He married Garrie Dawson in 1962, and a year later became the proud father of twin boys, Michael and Simon. In 1964, a daughter, Suzanne joined the Walker family.
After running a woollen goods and craft shop in Wales, Mr Walker joined Trust House Forte and worked in Oxford and Rye before spending time with a catering company in London.
In 1971 he joined Scottish Highland Hotels and spent the next three years at the Caberfeidh in Stornoway rejuvenating the hotel for the Mackenzie family.
In 1974 he took up the post of manager of the Sutherland Arms Hotel under the ownership of Scottish Highland Hotels.
After a divorce, he married Margaret Feeney and, two years later, in 1985, their daughter Sarah was born.
In 1990 the couple bought Park House, overlooking Little Loch Shin, transforming it into a successful guest house offering fishing and stalking.
It was a great sadness to Mr Walker that the Sutherland Arms Hotel closed and was subsequently vandalised and demolished.
Although busy with hotel management and his own business, he managed to devote time to local community groups, helping to run a gala week and promoting the county while serving the local tourist board.
Mr Walker also served on Lairg Community Council from 1997 to 2011 and was chairman for three terms. He was treasurer of the Lairg and District Community Initiative for many years and worked with its directors to achieve charitable status and access grants and negotiate a community right-to-buy option on the former Sutherland Arms Hotel site.
He was passionate about fishing and was an honorary member of the West of Scotland Angling Club.
With the Migdale Action Group he fought for the new Migdale Hospital in Bonar Bridge. Relatives said it was fitting and a great comfort to them that he spent his last days at Migdale, "looked after wonderfully" by its caring staff.
He is survived by his first wife and their three children, and by second wife Margaret and their daughter Sarah.