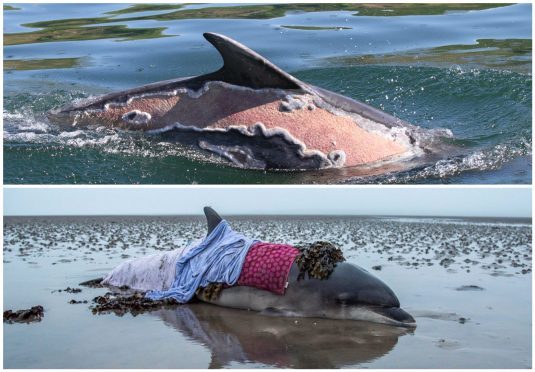 A sunburned dolphin which languished for hours on a Highland beach after becoming stranded has been spotted reunited with her pod.
The female bottlenose, nicknamed Spirtle, was discovered blistered and suffering on the shore of Nigg Bay on May 29 by a passing motorist.
She had been stuck on dry land for several hours by then, but after an overnight operation lasting around 10 hours and involving a large team of volunteers she was re-floated back.
The vet who examined Spirtle at the time said chances of survival were about 50/50, but now the cetacean has been spotted playing in the surf with the rest of the Moray Firth pod off the coast of Cromarty.
Although the right side of the four-year-old creature's body has been severely burned all the way down to its blubber layer, research fellow Barbara Cheney, of Aberdeen University's lighthouse field station in Cromarty said Spirtle seems to be well on the way back to good health.
Ms Cheney said the team had "recognised her instantly" when she appeared during their usual checks.
"She's got some really subtle identifying marks on her fins and body from playing and fighting, but now unfortunately she really stands out," she said.
"Her behaviour was really good, we've seen her doing the usual dolphin activities of hunting fish and chasing boats, things we would normally see her doing, which is encouraging.
"She's had some really serious wounds on her right hand side from the stranding, and she tends to swim with her right side up as a result of this.
"But around the edges of the wounds there's signs that the skin is healing.
"She's obviously got quite a way to go but she's not showing any signs of distress which is really good for her.
"It's really good news that she's still around with the rest of her pod despite her ordeal, it's always great to see a dolphin survive a stranding."