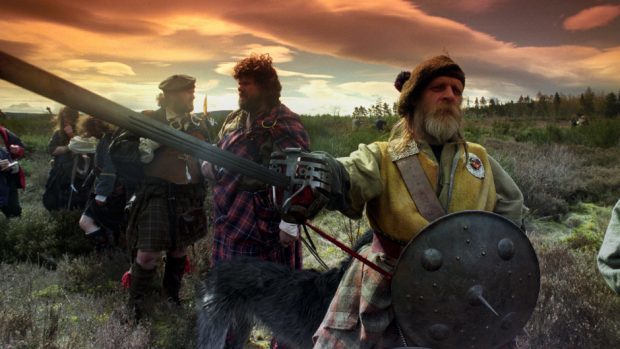 One the world's most iconic battlefields is at the centre of a maintenance row as critics claim overgrown trees and bushes could render it invisible.
Local councillor Jim Crawford has cited history books recounting how the area was open moorland at the time of the 1745 Jacobite rising.
"The current bloom would have hidden virtually every Jacobite," he said.
"It's a national and international treasure and we really should appreciate it more than we do.
"To rely on the National Trust for Scotland (NTS) being given prescriptions from the public to keep it going is very unfair. Right now the trust is short of money and it's now showing on the landscape in a conservation area. I feel they need some help.
"Because it is such a nationally important area the Scottish Government should step in and help with the upkeep."
Mr Crawford said ponies are currently grazing at the site when "100 goats" would be a better idea.
"It's going to get to the stage where the views across the battlefield will disappear," he said.
"In a couple of years time you're not going to see the B9006 going through the battlefield with the gorse and the hedges growing so high."
He added that when a local housebuilder wanted to construct homes at nearby Viewhill the view from the battlefield was something campaigners wanted to maintain.
In recent years he said Inverness jail inmates did a good job tackling the problem but that practice had stopped.
A spokeswoman for the Scottish Government said: "Culloden Battlefield is a nationally important site that attracts tourists from around the world.
"We greatly value the work carried out by the National Trust for Scotland to preserve and maintain our cultural heritage and natural environment, which is why the organisation is receiving more than £1.4million funding this financial year."
A spokeswoman for NTS Scotland said: "There's a regular programme of maintenance in place at Culloden and we do our best to ensure it's ready to welcome visitors from near and far.
"This summer has been extremely busy, with visitor numbers up by about 25% on last year and we've just concluded a really successful series of literary events featuring acclaimed authors like Diana Gabaldon and Jacqueline Riding."
She added: "We're looking forward to welcoming many more visitors before the summer season is over."