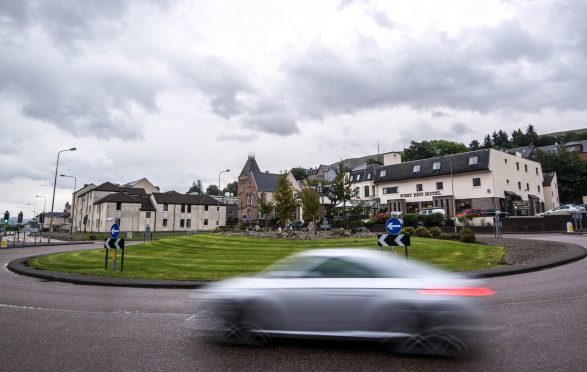 Transport chiefs have been accused of double standards over a deal which will allow advertising boards to be put on trunk road roundabouts.
The deal with the local authority had led to claims motorists' safety is being put at risk as part of a money-making move.
Transport Scotland previously complained that advertising signs on a planned nightclub beside the A82 Inverness-Glasgow road at Fort William in "might distract drivers on the bypass".
But it has now reached an agreement with Highland Council which would allow the local authority to erect signs on 25 trunk road roundabouts across the region – and sell the advertising space to generate income.
In return, the local authority would take over maintenance of the roundabouts from Transport Scotland.
Last night, one roads campaigner claimed the trunk road operator's change of heart could be because it stood to benefit financially from the roundabouts deal.
The council has submitted planning applications for permission to erect signs on 25 roundabouts on the A82, A830, A9, A96, A99, A835 and A87.
Kilmallie Community Council has objected to the application for the Blar Mhor roundabout on the A830 Fort William-Mallaig road.
Community council secretary, Russell Leaper, said: "This conflicting information from Transport Scotland seems rather hypocritical.
"The only purpose of these signs is to attract the attention of motorists and any distraction puts safety at risk."
And A82 Partnership spokesman Stewart MacLean questioned Transport Scotland's reasons for the apparent discrepancy.
He said: "In the Fort William nightclub application, the agency is highlighting its concerns over roadside signage and yet it appears to be completely in agreement with the council regarding advertising on roundabouts.
"Could this be something to do with Highland Council taking on the costs of maintaining these roundabouts?
"It would appear to be double standards being applied by Transport Scotland.
"It is self-evident that advertisers want exposure of their message to commuters, but surely this is not conducive to safety on a main trunk road, which is already subject to many accidents and incidents."
A Transport Scotland spokeswoman said: "The main purpose of the signs on roundabouts is to inform road users and there are regulations in place to allow us to control the placement and size of logos on these.
"The (nightclub) planning application refers to an advert, which has a different purpose and is designed to be prominent.
"There are no regulations in place to allow us to control the content or siting of adverts other that the planning system."
She added that the safety of the trunk road network was the agency's priority and pointed out that similar roundabout schemes were already operating successfully in Aberdeen and Dundee.
A Highland Council spokeswoman said: "Income generation is an important part of the council's strategy to reduce the amount of savings required and thereby help to protect services."
And she pointed out that the council already offered advertising opportunities on many local authority roundabouts throughout Inverness.
She added that any objections to the proposals would be considered during the planning process.
Meanwhile, planning officers are recommending approval of the application by David Smillie for the conversion of the Everest Restaurant at the west end of Fort William High Street into a nightclub.
Highland Council is applying for planning permission for advertising signs at the following locations –
A9 Inverness Longman Roundabout
A82 Harbour Road, Inverness
A82 Rose Street, Inverness
A82 Shore Street/Friars Bridge, Inverness
A82 Telford Street/Kenneth Street, Inverness
A9 Inverness Raigmore interchange
A96 Inverness Retail Park
A96 Inverness Smithton
A96 Tornagrain Inverness airport
A96 Nairn Sainsburys
A9 Tore
A9 Ardullie/Cromarty Bridge
A9 Nigg
A9 Dornoch Bridge
A9 Helmsdale
A99 John O'Groats
A835 Maryburgh
A82 Fort William Road to the Isles
A830 Fort William Police Station
A82 Fort William Nevis Bank
A82 Fort William Morrisons
A82 Fort William West End
A82 Ballachulish
A87 Kyle/Skye Bridge
A830 Mallaig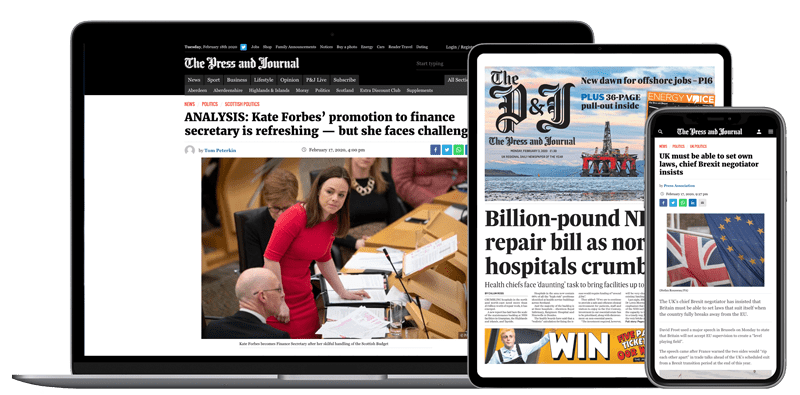 Help support quality local journalism … become a digital subscriber to The Press and Journal
For as little as £5.99 a month you can access all of our content, including Premium articles.
Subscribe