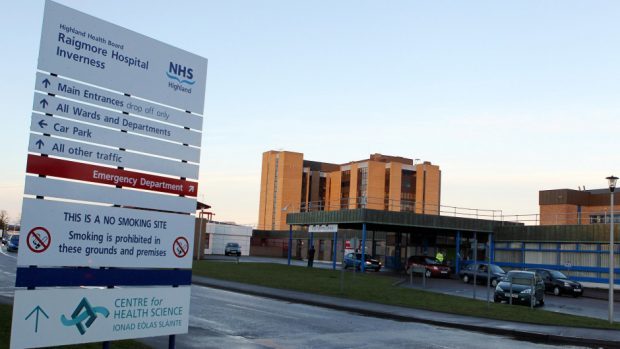 Half the men given urgent referrals to a prostate cancer specialist in the Highlands are not being seen quickly enough, according to worrying new figures.
Raigmore Hospital in Inverness has spent two-and-a-half years in its effort to recruit a key member of staff for the department.
Most recent figures show only 51% of patients given an urgent referral to Raigmore were seen within the government target of 62 days.
One cancer specialist at the hospital has admitted that the problem is linked to a long-running vacancy in the urology department.
The shock figures, from July to September last year, were presented in a report to board members this week.
Last night, politicians said it was yet another instance of poor waiting times resulting from staffing problems – which have been acutely felt in rural parts of the Highlands.
Recently, Caithness General Hospital has changed to a community midwife unit, in part because of problems recruiting and retaining consultants for the Far North.
Dr Stephen Thomas, a consultant respiratory physician and cancer clinic lead at Raigmore Hospital, said that between five and 10 people in NHS Highland are missing the 62-day target every three months.
He said: "I think it's reasonable to say that having less capacity than we should has contributed to the longer waits to diagnose the patients referred with suspected cancer.
"In order to reduce waiting times we need to redesign the way the service operates and improve capacity. From the capacity point of view in urology there are six consultant posts based at Raigmore, but one is vacant and has been for two and a half years. We've advertised that post three times and will be advertising again in the Spring. With urology, vacancies are a national problem, but it can be more difficult for remote health boards to recruit than those in the central belt."
Dr Thomas, who has led the cancer unit at Raigmore for about eight years, also stressed that work is ongoing to find ways to improve the efficiency of services in the urology department and said that a meeting with board members is due to take place next week.
The worrying waiting times were revealed in a report which went before the NHS Highland board on Tuesday, and board chief executive Elaine Mead acknowledged the vacancy during the meeting.
Last night shadow health secretary and Highlands & Islands Conservative MSP, Donald Cameron, said: "Once more we are seeing the stark reality of the NHS under the SNP.
"Yet again, it seems we have a problem with waiting times directly resulting from staff levels. There is now a staffing crisis affecting health boards across Scotland, leading to the workforce being overstretched and struggling to keep up with demand.
"Given the SNP have run the health service for almost a decade, they should have seen this crisis coming.
"NHS Highland is nowhere near meeting the waiting times for urology, and patients will rightly be concerned about the level of care they will receive should they need to visit hospital.
"It is now up to the SNP to explain how they will help reduce these waiting times, and put a long term workforce plan in place."
Highlands and Islands Labour MSP Rhoda Grant was concerned about the stress for patients waiting on a suspected cancer diagnosis, adding: "The period of waiting for people who are seen really quickly in days rather than months is stressful enough, but 62 days is horrendous. It's a long time for the general wellbeing of the person far less to find out if treatment for cancer is required."
Scottish Liberal Democrat health spokesman Alex Cole-Hamilton MSP said: "It's terrible news for patients that only a little over half of them are getting treatment within the 62 day target.
"When urology vacancies are sitting open for two and a half years, it is time for Scottish Government ministers to answer urgent questions on their workforce planning, which once again appears to be wholly inadequate."
Scottish Government health secretary Shona Robison said: "This government is committed to ensuring that all patients have swift access to the full range of services they need. Last month I set out a series of actions we're taking forward over the next few months to make immediate improvements to capacity within these urological and colorectal services, and reduce the time people wait to be seen.
"These service redesigns follow the direction we set out in our five-year, £100 million Cancer Strategy.
"The recently announced reform of the way outpatient services are delivered will also have a significant impact on streamlining access for patients to a cancer specialist, getting them that vital diagnosis or decision on treatment more quickly.
"This national service redesign, along with NHS Highlands local prostate cancer improvement and redesign plans, will help improve our cancer services for the future and deliver the improvements to waiting times that I am determined to see happen."
Comment, Page 27