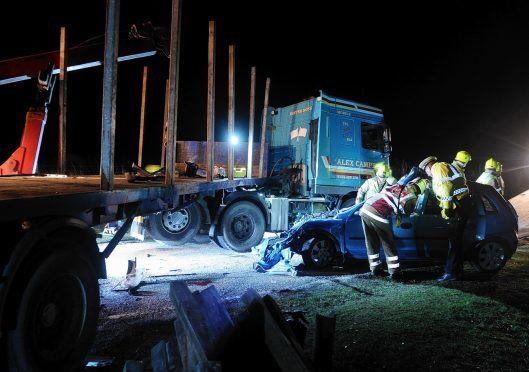 A Highland haulage firm has been sanctioned for "compromising" road safety in the lead up to a road crash which claimed the life of a teenager.
Kevin MacIver died after his Vauxhall Corsa collided with the side of a timber lorry which was manoeuvering across the B9175 Nigg to Kildary road.
The 19-year-old died at the scene of the accident, which happened in January 2014.
Scotland's Traffic Commissioner Joan Aitken has now suspended Alex Campbell Haulage Ltd from the road for two months.
The lorry driven by Alasdair MacLean was being reversed into the yard off the B9175 at the time.
Mrs Aitken found that the yard had become "cluttered" which made it difficult to turn a vehicle and trailer in the space.
Mr MacIver worked as a technical clerk for fabrication firm Isleburn at Nigg and had left work at 5pm, heading home to Saltburn near Invergordon.
The fatal crash happened just a few miles from Nigg at the haulage yard at Carse of Bayfield.
The accident happened in darkness, though there were lights on Mr MacLean's lorry.
In Ms Aitken's written decision published yesterday, she said it was not her role to determine who, if anyone, was to blame for the crash.
She said: "It is patently clear to me that the reversing manoeuvres into the access road to the operating centre were inherently less safe than taking entry in forward gear," she added.
"The operator had significantly breached the safe operation of its vehicles and trailers by engaging in this reversing manoeuvre and expecting the driver to reverse in.
"The tragedy of this case is that this operator compromised road safety by allowing the operating centre to deteriorate and change in use such that it was no longer suitable."
She found that Mr Campbell was "so engrossed" in his own business he had not considered the safety implications for other road users.
Ms Aitken visited the site a few months after the crash and said in her report that she was left "distinctly unimpressed by the state of the yard".
She carried out a follow-up visit this year and said the yard is now "well kept" with adequate space for turning.
Driver Mr MacLean gave evidence at the hearing and said that, in hindsight, he wished that he raised concerns about the working practice of reversing into the yard with Mr Campbell.
He also told the hearing that he had noticed approaching headlights after he had begun the manoeuvre and had expected his vehicle to be visible so the driver would slow down and wait for him.
Mr Campbell declined to comment.