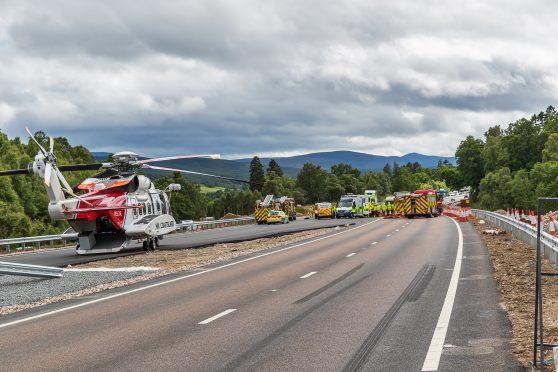 Three people who were rescued from a horror head-on crash on the A9 escaped without life-threatening injuries.
The three were rescued from a serious crash on the Inverness to Perth road near Kincraig on Saturday afternoon.
The collision involved a campervan and a silver Renault van and happened within the 40mph dualling roadworks.
VIDEO: Two people cut free and airlifted to hospital after A9 crash
Yesterday police confirmed that three people had been taken to Raigmore Hospital in Inverness following the crash.
A spokeswoman for the force said: "Police Scotland attended a road traffic collision involving a camper van and a van which happened at 2pm on the A9 near to Kincraig on Saturday, July 2.
"Three people were taken to hospital, where it is understood that their injuries are not thought to be life threatening.
"The road was closed for a time to allow for collision investigation to be carried out."
The fire service had previously confirmed that it helped free two people from the campervan using cutting equipment.
The driver of the campervan was not freed from the vehicle until 4.10pm – almost exactly two hours after the collision occurred.
They were removed on a spinal board.
The passenger of the campervan had been removed by 2.44pm.
The casualties were taken aboard the Inverness-based coastguard helicopter Rescue 951 which landed on the carriageway a short distance away from the crash scene.
They were then flown to Raigmore Hospital.
The campervan suffered extensive damage to the front end and to its side panels, which firefighters had cut away to gain access.
The silver Renault van also involved suffered similarly extensive damage to the front end.
The van was towing a trailer which remained attached.
The road was closed in both directions after the accident.
It did not reopen until after midnight in the early hours of Sunday morning.