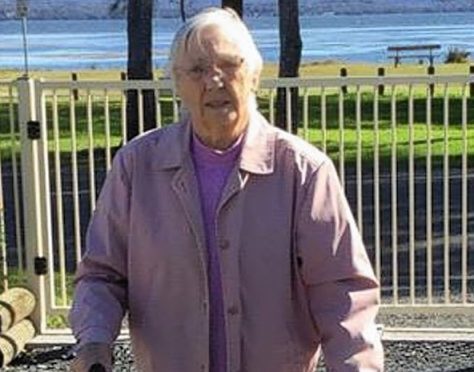 The frail Highland pensioner at the centre of a deportation row is on the brink of being offered a reprieve by the Australian government.
The family of Christina Grant, originally from Dulnain Bridge but being cared for by her son and his family in New South Wales, told of their heartache as they organised for her to return to Scotland later this month, despite having no-one to look after her over here.
They described how they felt were locked in stalemate with immigration officials in Australia, and believed there was no point in applying for a new visa for a 96-year-old with dementia and sight problems, because it would just be refused.
Pack your bags and get out, Australia tells Highland gran aged 96
But now, Australian Government officials have issued a plea for the family to get in touch with them directly – and said they had no plans to deport the nonagenarian.
A spokesman said: "We have no plans to remove Christine Grant and we are willing to resolve her situation.
"She is currently an unlawful citizen because her existing visa has expired.
"She needs to put a visa application in so that we can consider all of her circumstances.
"It's true that she has been told she can't remain in Australia on her current expired visa – but we are happy to work with her and her family."
The spokesman said Ms Grant could have a bridging visa while a new application was considered.
He added: "Yes, health is a consideration but there is no law saying that a 96 year-old cannot apply for a visa.
"There are no plans to deport her and its incorrect to say she will be refused a visa because of her health. Health is only one of a number of considerations but we can't know her exact circumstances until she applies for a new visa."
Ms Grant's daughter-in-law Diane, married to Allan, had posted a poignant photo of her with a suitcase packed and ready to go on social media earlier this week.
They explained that she had been looked after by Allan's brother Robert in Speyside – but he died two years ago and she moved to Australia.
Diane and Allan applied for a visa for her to come to Australia.
A condition of her visa was that she had to depart Australia once every 12 months but could return.
Concerned that Mrs Grant was not fit enough to fly out of Australia to meet this requirement, her family booked her on a cruise to Vanuatu, a group of islands in the South Pacific Ocean.
They believed that this trip would meet the visa requirements.
However, after the cruise the Grants were told by the Department of Immigration and Border Protection that the visa rules had not been met.
Yesterday, they maintained they were told there would be "serious consequences" if she did not leave the country by the end of this month.
News of the apparent 11th hour reprieve came too late last for reaction from Diane and Allan, but niece Alison Jones said: "If this is correct, then it looks like common sense might just have prevailed.
"We need this to be sorted out without too much trouble, because that would be best for Auntie Chrissie – and she is the one at the centre of this.
"We just want her to feel safe and comfortable."
Diane said earlier yesterday that it was "all a big misunderstanding – but they (the government) will not admit that", claiming their visa conditions were "not explicit enough".
She added: "It seems to me bureaucrats trying to keep themselves busy and make more money for departments by making us reapply for a visa – cost not refundable – which she will not get on medical grounds and in meantime her status is in limbo.
"We decided we needed to get her back to Scotland while could still travel (hopefully) and while she could still see to become familiar with her surroundings and a government who legally had to look after her.
"You try getting a new policy for a 94 yr old and see what it's like."