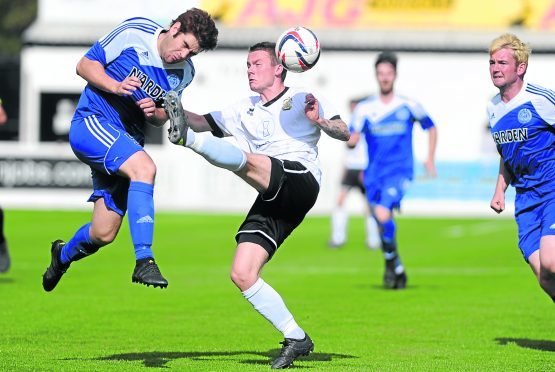 Loved ones have rallied round a Highland League footballer who has been diagnosed with a malignant brain tumour.
Calum Riddell was diagnosed with the growth, known as a glioblastoma, while on honeymoon with new wife Rebekah.
The 28-year-old Nairn County midfielder has been unable to work since May.
Now a massive £16,000 – and counting – has been raised to help towards the costs of possible treatments, either abroad or in this country.
He had been experiencing dizziness at the start of the year but this progressed to the glazier having double vision at work, and no longer being able to drive.
It was first thought he was suffering from migraines, but Mr Riddell was eventually referred to Raigmore for an MRI.
Within five days he had the devastating news that it was a brain tumour. A biopsy was performed just two weeks before the wedding, but the couple agreed that nothing was going to stop the most important day of their lives.
County committee member and director of football, Graeme Macleod, Mr Riddell's lifelong friend, said: "I had a chat with Calum last night when we had a bounce game against Caley Thistle at Station Park, the first time we've seen him since he returned from honeymoon."
He added: "As a club we are really keen to support Calum in any way we can.
"He is a lively, bubbly character about the dressing room and we've asked him to still come along to training nights if he wants to get out of the house.
"And he will be coming along with us on Saturday to our league game at Turriff United.
"The boys are always delighted to see him.
"Calum's in remarkably high spirits considering the news he has had and the situation he finds himself in."
Mr Macleod said that his friend had been experiencing blurred vision during games last season.
"He would be going up for a header and would see two footballs in the air, because he had double vision.
"He felt that he wasn't doing himself justice, but as I said, those were the early signs of his condition."
Mr Riddell will travel to Glasgow next week for a second opinion. The future is uncertain but friends and family have already opened a special fund to assist with the cost of possible treatments. Fundraising activities are being planned by friends and family.
These include a four-mile swim across the Moray Firth from Whiteness point to Rosemarkie, followed by a cycle back to Nairn.
There will also be a fund-raising match at Station Park on Sunday October 8, between Nairn County and a Calum Riddell select.
Donations can be made by logging on to
https://www.gofundme.com/calumriddellfund