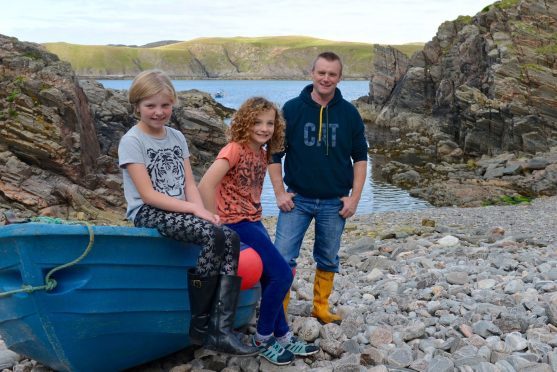 An off-duty coastguard has been reunited with the two young girls he saved from being swept out to sea on boogie boards.
Eve Watson, 8, and Fearn Hayley, 10, were happily playing on their boards near a beach when the weather worsened.
Fearn's mother, Rhona, was watching them from Farr Beach, Sutherland, and frantically tried to wade into the sea but couldn't reach the two girls.
Onlookers heard their screams and called 999 and the coastguard, but before they arrived, an off duty coastguard stepped up to help.
Coastguard Station Officer Jamie Magee jumped onto his 13ft Pioneer dinghy and caught up with the girls within 15 minutes.
Jamie said: "I carried on down to Port Swingo as fast as I could and spotted the girls in the sea about 350 yards away.
"I could hear them screaming and see their heads sticking out of the water.
"I ran the tender into the water as fast as I could and, as I turned it to head out in the bay, I was throwing fish boxes out on to the rocks. I must have looked like a madman.
"Fearn, who was wearing a wetsuit, was still screaming but Eve, who was dressed in a swimming costume was quiet and when I pulled her aboard, it was clear that she was very, very cold.
"It was very clear that she was starting to suffer from the onset of hypothermia and I needed to get her to the paramedics on shore."
Jamie took the girls back to Port Swingo where paramedics were waiting for them with blankets.
He added: "It all happened so fast but I knew that I would have the backup of the Coastguard Rescue Teams, the RNLI and the Paramedics once I returned safely to shore with the girls.
"It was good fortune that the girls were spotted quickly and the alarm was raised with Coastguard.
"They had a really close encounter and I can only hope this raises awareness of how quickly people can get out their depth and in trouble on our beaches.
"It's a good reminder to get the message out there that if anyone is in trouble on the coast they should call 999 and ask for the Coastguard."
Jamie had been out delivering crabs to a nearby house at the time of the accident on August 25 when he heard the girls screaming and rushed over to help.
Caroline Watson, Eve's mother, said: "It is awful to think what the outcome could have been if help hadn't been so close at hand.
"It was a terrifying time that could have ended in tragedy had it not been for the quick actions of the people on the beach in calling for help and Jamie spotting the ambulance and launching his boat.
"We are also extremely grateful to both the Coastguard and RNLI for their response."
Eve's wetsuit zip had broken earlier in the day so she was just wearing a swimming costume at the time of the accident.
HM Coastguard Deputy Head of Coastal Operations Richard Hackwell said: "Jamie's quick thinking that afternoon saved the lives of two children.
"I'm extremely proud of his actions that day, which prove that Coastguards are never off duty and are always there to help members of the public in their time of need."