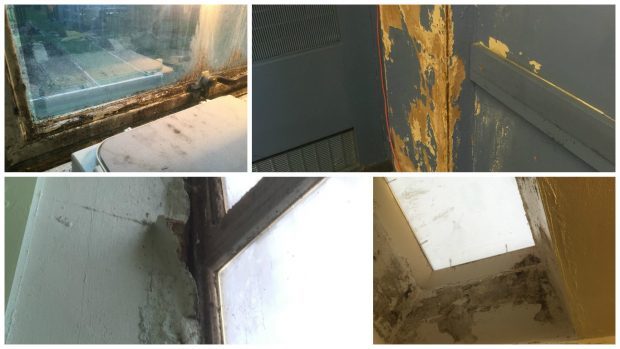 Schools and care facilities across the north face a £100million maintenance backlog – and the council does not know if vital repairs are being carried out.
Internal auditors have raised a series of concerns about the way maintenance is managed at the local authority's "care and learning" buildings, including three "major" issues that need to be addressed as a "matter of urgency".
A report found that the total cost of all required maintenance at the department's buildings was estimated at £106.842million, while £4.277million was allocated for the work this year, as well as £320,000 given directly to schools.
Shocking report reveals full extent of "poor" Highland schools
Council leader Margaret Davidson admitted last night it was a "critical issue" – but said the authority was "never" going to have enough money to address the backlog and called for a "radical review".
The scale of the problem emerged on the day Inverness Library had to be evacuated after rubble fell through the ceiling.
The real bill for the repair work could be higher than £106million, because the auditors also concluded that there was no guarantee that the council's property condition database was even "accurate".
They said that surveys of schools were "currently behind schedule" and that only 240 of 600 assessments of non-school buildings had been completed, with none currently being carried out, as work "stalled" due to "resourcing issues" in the maintenance officer team.
And in just a sample of cases probed, they found that 58 of 451 maintenance requirements related to buildings "which either no longer existed or were due to be demolished".
A total of 242 were overdue for completion, but only one of the orders had been included in this year's programme.
Meanwhile, surveys found 36 jobs where there was a "very high, high or significant risk of a catastrophic or critical health and safety risk of harm to persons if the element were to fail", but only in two cases were the risks "accurately categorised".
The auditors said "appropriate action" had been taken to mitigate the risks but the survey database was not updated.
And it was found that there was "no process in place" to ensure that schools were carrying out required maintenance work for which they are responsible.
A series of recommendations have now been made in a report due to be discussed by members of the council's audit and scrutiny committee on Thursday.
Last night, Mrs Davidson said: "I don't doubt that it is £100million – but we can only do what we can do.
"We do need a radical review of the way we do maintenance. But the truth is we're never going to have enough money.
"We can prioritise but we're so far up the spectrum we need to look at whether there are different ways to organise it.
"There's no doubt about it – maintenance is a critical issue for the council."