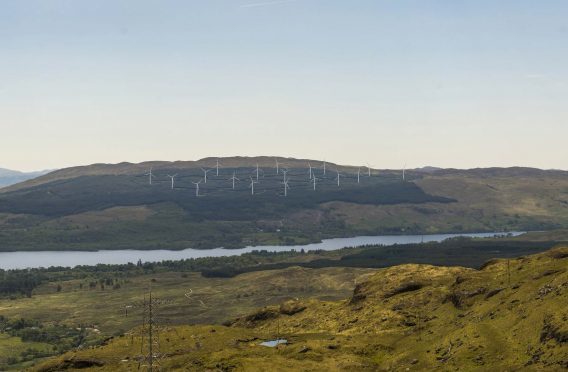 An inquiry into a controversial windfarm in a scenic part of Argyll will be held next month.
Argyll and Bute Council refused planning permission for the 18-turbine Upper Sonachan Wind Park because it was felt it would have an adverse impact on the landscape.
Mountaineering Scotland had also objected, claiming the 447ft masts – which would be built north of Inveraray and south of Loch Awe – would detract from the experience of walkers on nearby Ben Cruachan.
But Developer Skylark – a joint venture between Skanska and Ecotricity – launched an appeal with Scottish Ministers against the council's decision, sparking a public inquiry.
Now preparations are under way, with a public hearing scheduled for November 13.
A spokesman for Skylark said: "Scotland is leading the way when it comes to renewables and that progress should continue with Upper Sonachan Wind Park, which is a good site and would make a significant contribution in replacing the use of fossil fuels in Britain.
"We've had continued dialogue with local residents and have completed detailed site assessment and environmental studies so are happy that we have a very strong case for a wind park on the site."
The public hearing sessions will consider any economic benefits or otherwise of the proposal.
It will also look at noise, landscape and visual impact and any possible conditions and legal agreements such the appeal be upheld.
The sessions will begin at 4pm on Monday November 13 at Dalmally Community Centre.
In its statement to the inquiry, Argyll and Bute Council senior planning officer David Moore writes: "The council's evidence will demonstrate that the landscape in which the development would be located has no capacity to accept a large scale wind farm development such as is proposed by the applicant.
"The development would have unacceptable significant adverse effects on views and which are important regionally, and locally, including from the A85 trunk road (Oban to Perth), tourist routes, residential areas, visitors attractions, for persons boating and/or fishing on Loch Awe and for other persons with high sensitivity to such adverse effects, including those who have resort to the area around the development site for recreational and other purposes."
Scottish Natural Heritage (SNH) has also objected, saying that the proposed wind farm would result in "significant adverse impacts on the landscape character of north Loch Awe".