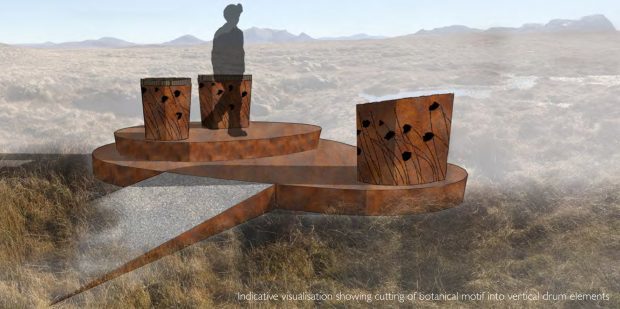 Plans have been submitted for a new outdoor viewing platform in the heart of the Flow Country in northwest Sutherland.
Applicants RSPB Scotland want to develop a small roadside car park and viewpoint with seats on the eastern side of Cnoc Craggie, overlooking Loch Craggie.
It would be one of six roadside locations in Caithness and Sutherland where the public can experience the peatlands.
The proposal is part of the Flows to the Future project – commissioned by the RSPB – which aims to create a greater appreciation for one of the UK's most important natural assets, including an awareness of carbon capture, conservation and habitat.
The area is widely recognised as the largest extent of blanket bog in Europe and is currently on the list of Unesco world heritage sites.
The applicant's design statement says the aim of the viewing platform, sited at a disused quarry, is to encourage visitors and locals to stop and enjoy the views of the landscapes whilst educating them about  the importance of peatlands.
It adds: "With increased knowledge of the peatlands it is hoped that a much greater support for sustaining them into the future will also be achieved."
The viewing platform would be located on an elevated spot above the remote A836 road, offering dramatic vistas of peatland, loch and mountain.
The site is part of Ben Loyal Estate, under the ownership of Wildland Limited.
A car park will provide for five cars and would be located within the floor of the disused quarry, helping to contain visibility, and a path would wind up the slope to the viewpoint.
Interpretation boards will offer an overview of the Flow Country as a whole and its importance in managing climate change and biodiversity.
At this location the interpretation would focus on water in the
peatlands and its role in feeding clean fresh water systems. It could also look at the use of surrounding land for rough
grazing by crofters, and explain the history of this.
It is proposed that a map would show the location of other sites within the Flows Country where visitors can explore.