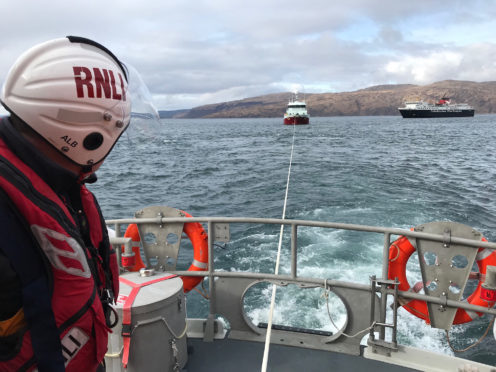 A fire aboard a 500-tonne live fish carrying vessel yesterday resulted engine failure and a call-out for a local lifeboat.
Oban Lifeboat arrived in the nick of time to set up a tow on the fish farming company owned vessel, which was drifting towards the shore.
The 131ft long Ronja Skye issued a "Pan Pan" distress call after the engine fire caused it to break down at the southern end of the Sound of Mull.
Stornoway Coastguard requested the assistance of the lifeboat at 1.40pm following the call from the vessel.
Leonie Mead, Oban Lifeboat deputy press officer, said: "The lifeboat left her temporary berth making best speed to the vessel's last known position. While on route the crew were made aware that the fire had been extinguished and no one was injured, but the vessel had suffered full engine failure."
CalMac ferry The Isle of Mull diverted from its course between Oban and Craignure to stand by, along with a local work boat which had already attempted to set up a tow with the vessel.
The lifeboat arrived on scene by 2.21pm, with the Ronja Skye now just west of Lismore Lighthouse and in danger of drifting closer to shore. The volunteer crew quickly established a tow with the vessel and proceeded to a safe area for it to drop anchor to allow for repairs.
With the vessel safely at anchor, Oban lifeboat was free to stand down. Arriving back at her temporary berth and ready for service again by 4.30pm.
Mrs Mead added: "Our thanks to the other vessels in the area for standing by."
A spokeswoman for Stornoway Coastguard said: "At 1.40pm we received a call from a live fish carrier, the Ronja Skye, which had broken down and required assistance.
"There was a minor fire and one of the pipes had melted. The lifeboat took them under tow to a sheltered area where repairs were carried out.
"The Isle of Mull ferry stood by.
"Ronja Skye is now continuing on its journey."
A spokesman for CalMac said: "The Isle of Mull attended a fire incident on board a fishing boat while returning from Craignure along with the lifeboat. It stood by if required but once the fire was out it continued on its way."