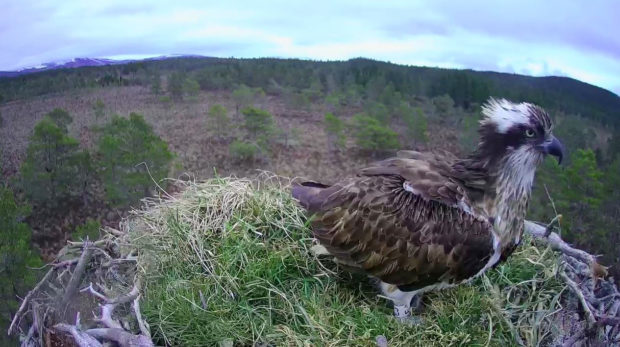 An infamous love cheat osprey has returned to the Highlands after a 3,000 miles journey to her nest.
Female EJ is one half of the most successful breeding pair at RSPB Scotland's Loch Garten site near Grantown-on-Spey.
EJ, who is 21-years-old this year, has been visiting the loch for 16 years and has reared 25 chicks over that time with Odin and other males.
This is her 15th breeding season.
The bird, known to conservationists as EJ, was spotted at her nest at the RSPB's Loch Garten reserve in the Cairngorms on Wednesday.
Over previous seasons about 20 of EJ's chicks have fledged.
During last year's breeding season, she refused to leave her clutch of eggs even after being buried under snow.
However all the chicks tragically died.
EJ weathered a snow storm and harassment from rival ospreys while incubating her clutch of three eggs.
The RSPB suspects mate Odin, who was bringing fish to the chicks, was frightened off by another male.
In 2015, in a twist more familiar to viewers of the Jeremy Kyle Show than devoted osprey followers, the paternity of EJ's egg came into question.
Ospreys migrate to Africa in August and September before returning to Scotland for spring and summer, usually in March or early April.
Loch Garten is famous for being the home of breeding ospreys since the 1950s, and the site is where the birds first returned to after becoming locally extinct as a breeding species in the early twentieth century. RSPB Scotland has been protecting ospreys at Loch Garten since 1958.