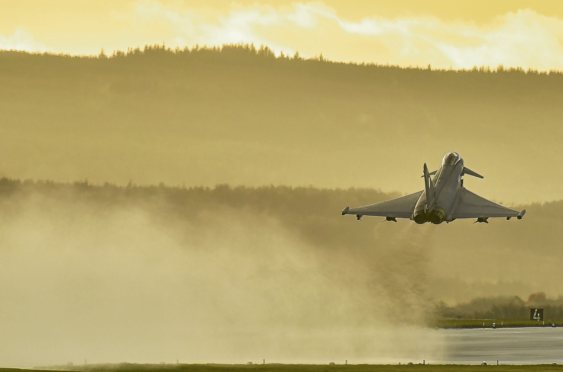 Near misses in north skies have sparked new calls for a public inquiry into a horror Tornado crash off the Highland coast – and an immediate demand for a collision warning system to be installed on fighter planes some five years after the tragedy.
Former RAF engineer Jimmy Jones – who worked on both the Iraq Nimrod disaster and Tornado crash inquiries – fears a jet collision with a passenger plane is virtually inevitable unless action is taken.
He has highlighted two major incidents since June involving Typhoon jets now based at RAF Lossiemouth and commercial aircraft.
Moray MSP Richard Lochhead, who has campaigned for a fatal accident inquiry since the horror collision between the two jets in 2012, is to meet the Crown Office's head of the Scottish Fatalities Investigation Unit to seek a review of its a decision not to hold an open court hearing.
In the aftermath of the tragedy, an official Military Aviation Authority (MAA) probe indicated it could have been avoided if the aircraft involved had been fitted with a collision-warning system (CWS).
However, no such additions have been made to the UK's fleet of Typhoon fighter jets – many of which replaced the Tornados at RAF Lossiemouth.
Mr Jones said the first incident involving a near miss was on June 14 last year, south east of Wick in Caithness, when a military fast jet passed less than 100m above a BAE Jetstream 41 after the civilian pilots "pushed the nose down" of their plane to avoid a collision.
The second, on August 25 last year, involved an Eastern Airways flight from Aberdeen International Airport heading to Stornoway in which the pilot noticed a Typhoon fighter jet so close he had to take evasive action.
The aircraft came within 200ft of each other.
An inquiry report revealed it happened because the fighter pilot was distracted by cockpit duties.
Mr Jones said last night: "In the case of the Wick incident, a few feet difference in the altitude of one of the aircraft would have created a tragic accident rather than this near miss.
"We could have opened our newspapers on June 15, 2017, and read, "33 killed in Mid-Air Collision near Wick".
"The MoD insults the intelligence of the general public. We have had two serious near misses in our area involving Typhoons and civil traffic. Are we to wait for an actual collision before prompt action is taken?
"The flawed approach to risk assessment and management is systemic and would be identified with a Tornado FAI."
Moray MSP Richard Lochhead said: "It would be extremely concerning and irresponsible for the MoD to downplay the role of collision warning systems given that the MAA in 2015 issued a strongly worded recommendation that such systems should be fitted to help prevent accidents particularly involving military aircraft and commercial airliners.
"We're being told that it will be next year at the earliest before they (CWA) are to be fitted. The delay and downplaying from the MoD is regrettable.
"This situation also raises questions about the MoD's safety culture lending weight to the case for a fatal accident inquiry into the 2012 Tornado tragedy to bring more of the issues out into the open."
An RAF spokesperson said: "An Enhanced Collision Awareness System has been funded for the Typhoon and the fleet will begin being fitted with it next year.
"While this will be an additional layer of protection, RAF aircrew training is the best in the world and they have multiple aids to assist with flight safety.
"We incorporate a multi-layered approach to avoid collisions including de-confliction planning, extensive flying supervision, sound airmanship, equipment fitted to aircraft to aid situational awareness, employment of suitable radar services and also an effective lookout from the aircrew to "see and avoid" each other.
"The introduction of a CWS was not and never will be a panacea for air collisions."
RAF Lossiemouth Squadron Leader Sam Bailey, Flight Lieutenant Hywel Poole and Flight Lieutenant Adam Sanders were all killed when the two GR4 jets crashed into one another seven nautical miles south-east of Helmsdale, Caithness, at about 920ft.
Squadron Leader Paul Evans suffered serious injuries.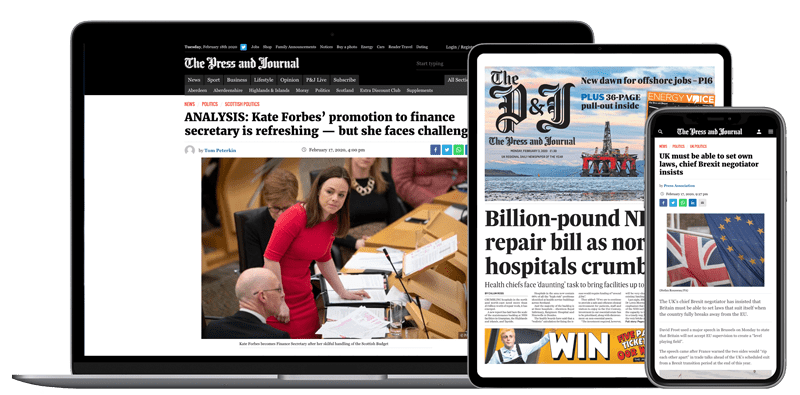 Help support quality local journalism … become a digital subscriber to The Press and Journal
For as little as £5.99 a month you can access all of our content, including Premium articles.
Subscribe