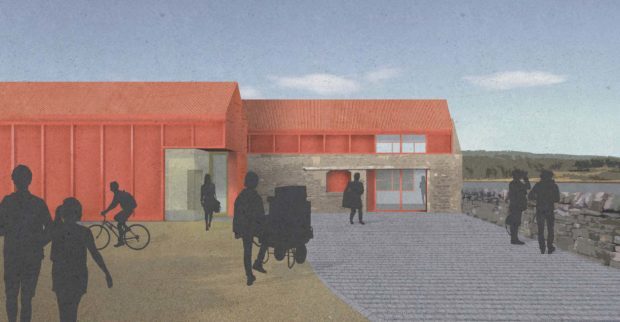 It is best known as "Britain's most beautiful shortcut," and now the story of the Crinan Canal will be brought to life.
A £1.5million project to create a heritage and community hub at the gateway to the canal in Ardrishaig will also display the history of the ancient Kingdom of Dalriada.
The Scottish Canals-led partnership project will see the transformation and extension of a historic, disused building – known locally as the "Egg Shed" – into a bespoke interpretation centre.
It will tell the story of the canal and the communities on its banks.
From its role in the ancient Gaelic kingdom of Dalriada to the tale of Queen Victoria's journey along the Crinan Canal, the new centre will allow visitors to step into the unique history of Mid Argyll via an array of interactive exhibits and interpretation material.
As well as the creation of the attraction, the revamped Egg Shed project includes space for community activities that could include everything from art installations to pop-up exhibitions and opportunities for social enterprises and community groups.
An array of public realm and access improvements also form part of the project, with plans to create new viewpoints and walkways around the building and new access connections with Ardrishaig. The works, which form the first phase of the redevelopment of the former Gleaner Oil depot in the area, are expected to be complete by early 2019.
Christopher Breslin, Head of Regeneration and Development at Scottish Canals, said: "Over the past few years, we've worked with our partners and the local community to develop a shared vision for the future of the Crinan Canal corridor. This project marks the latest stage in the delivery of those grand ambitions and the transformation of Ardrishaig into an attractive leisure, tourism and maritime hub.
"The redevelopment of the Egg Shed will help deliver a sustainable future for Ardrishaig, creating a fantastic tourist destination and a vital community resource that will bring jobs and economic benefits to the area. We're grateful to our funders and the local community for their support and look forward to welcoming them to the new hub in early 2019."
The project is funded by the Scottish Government; European Community Argyll and the Islands Leader programme; Scottish Canals; Argyll and Bute Council; Sustrans; Shanks; Argyll and Bute Council and Ardrishaig Community Trust.
Local contractor TSL, based in Oban, won the contract for the project and begins work on site this week.