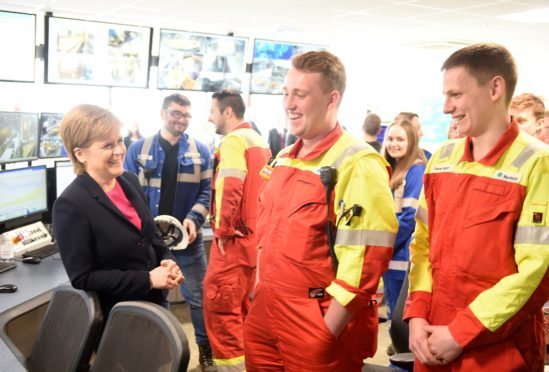 Thousands of jobs in the £1 billion-a-year forestry industry have been secured for at least 25 years following a £95 million expansion of the Norbord mill on the outskirts of Inverness.
The massive investment at the new plant – officially opened yesterday by First Minister Nicola Sturgeon – has nearly doubled the size of the wood panel-making site in Dalcross.
Mill bosses said the expansion would not only secure its own long-term future – and the jobs of 130 employees – but would also support the country's forestry industry which employs around 25,000 people and adds £1 billion a year to the country's economy.
It is expected £37 million a year extra will be pumped into Scotland's economy as a result of the expansion, with £22 million of that retained in the Highlands.
The workload has risen to such a level that the mill, now operating 24 hours a day, is handling 150 timber lorries a day – each carrying 25 tons of wood.
Retiring Norbord managing director Karl Morris said: "To be competitive, that wood has to be local so a successful forestry sector in Scotland, in particular the Highlands, was crucial to our decision to expand.
"This new plant not only protects jobs at the site but many more in the forestry and haulage sectors."
He added that the "success story" of the plant – known locally as the cloud-making factory because of the continuous bellowing of smoke from its chimney – said: "We were the first OSB mill in Europe 30 years ago and this investment represents another 25 years of making clouds in the Highlands.
The First Minister said: "Norbord's £95 million expansion of its Dalcross plant is one of the largest single inward investments made into Scotland.
"It will significantly increase capacity and demonstrates the vibrancy of the Scottish forestry sector.
"In creating demand in the supply of timber, along with climate change, it helps us focus on the need to create new woodland for the future."
She said it was a boost to the forestry sector which the Scottish Government was supporting, adding: "It has received more than £12 million support from Highlands and Islands Enterprise and is expected to generate £37 million gross value added of new economic activity for the Scottish economy each year, of which £22 million would be retained within the HIE area."
Charlotte Wright, chief executive of HIE, said: "The expansion will bring economic and job creation opportunities for the area as well as boost the Scottish forestry sector.
"The positive impact of this development will be felt well beyond Inverness and the Inner Moray Firth.
"Norbord is not only a significant local employer in its own right. It also plays an important strategic role in the region's forestry sector and is a major user of haulage companies and port infrastructure."
35 years of Norbord
1983 – Highland Forest Products forms with a £12.5 million investment to build an oriented strand board OSB production plant on the site of an old sand quarry near Inverness
1985 – Production starts on June 1 at an annual rate of 60,000 cubic metres and is the first European OSB factory
1989 – Takeover by Norbord Industries and the mill is improved with new processes and technology, including a tongue and groove finishing line that sees production reach 100,000 cubic metres
1994 – A £25 million modernisation and expansion development is implemented owing to success in the UK and Europe
2001 – £6 million investment sees the implementation of new adhesive and wood screening technology as well as installation of a third dryer
2004 – A move to 12-hour shifts results in substantial daily production growth
2014 – Process improvements to production achieves a new record of 350,000 cubic metres a year
2015 – Norbord Inc merges with Ainsworth to become the largest OSB producer in the world
2016 – Construction on the new 55-metre long production line and mill improvements start
2017 – The first pressing is made on the new continuous line on September 16
2018 – The official opening by First Minister Nicola Sturgeon