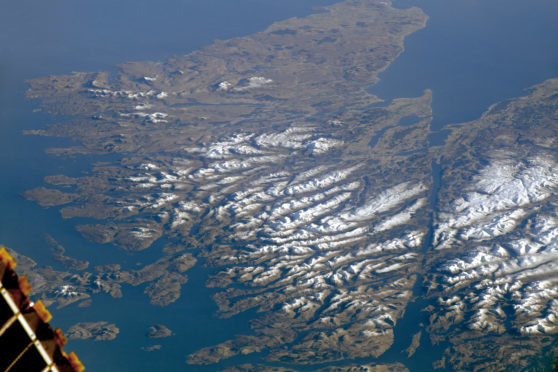 It took all of our space technology capabilities to capture it, but here it is at last – a cloudless sky in the Highlands.
The International Space Station (ISS) snapped this spectacular – and only a tiny bit snowy – scene.
The picture was originally taken in February but it only went public this week showing the snow-capped mountains in all their grandeur.
But what has caught many people's attention is the fact that there is not a cloud in the sky despite the time of year.
Even Nasa acknowledged that it is a rarity to capture the north without even a whisp of cirrocumulus clouds.
The photo was taken by one of the current crew comprising two Russian cosmonauts, one Japanese and three American astronauts.
The online response was immediate with one person joking that it is "an alien's view of the NC500" while another wrote "I can see my broch from here".
The picture emerged through the ISS Earth Observations project which is "aimed at understanding and resolving the environmental issues of our home planet".
But if any of cosmonauts or astronauts attempt to repeat the picture over Scotland this coming week they are unlikely to get as lucky.
Those on the ground may have a feeling of being unlucky themselves because after a nice warm spell more typically wet April showers are on their way.
The good news is that what was touted as another bout of severe wintry weather is not likely to come to pass.
A spokesman for the Met Office said: "We are not going to see anything out of the ordinary for this time of year. The whole of the UK will become cooler.
"We will have April showers and thundery showers in some parts of the northern half of Britain, particularly over higher ground and the Cairngorms."
There is the possibility of what he described as "mixed phase of rain and snow showers," adding "nothing that will have a huge impact."
He added: "There are just going to be showers and over the mountains they will be snowy due to the elevation."