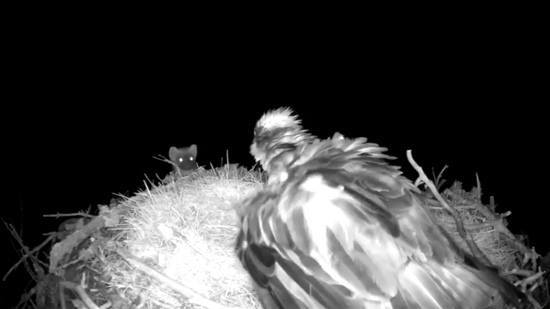 They are known for their nest raids on the hunt for unguarded eggs.
But this pine marten got more than he bargained for when he braved the heights of an osprey's home in a Highland reserve.
The webcast drama showed EJ, a female osprey who will turn 21 this year, staring down her unwelcome visitor in defence of two eggs laid in the past week.
Pine martens are known to feed on small birds and eggs.
Chris Tilbury, visitor experience manager at RSPB Loch Garten, said: "Lots of people have been generally quite interested. Typically if the adult osprey is on the eggs then the pine marten is not usually a threat.
"The only potential danger occurs when the eggs are left unguarded, which will only be for a couple of minutes if the adult is on an exercise flight for example. So the pine marten does not carry with it a massive threat, but there is always that potential."
The image, shared by the RSPB Loch Garten on Facebook, sparked a frenzy of bird enthusiasts talking about the rare sight.
One keen commenter, Rebecca King, said: "What a wonderful moment! It really does have that 'oops – sorry – wrong house!' look."
Ospreys migrate from West Africa to Scotland every year, in a journey that is estimated to exceed 3,000 miles, before setting up shop for the breeding season from March to August.
EJ, who has returned for her 15th breeding season, has been seen with a new and more youthful partner as the birds of prey wait for their young to hatch.
Typically ospreys are generally monogamous; however, if their partner fails to return from migration a suitable replacement will be sought. Ospreys will return to the same nest each year, with partners spending near six months apart.
Once hatched the osprey chicks will take around five weeks to grow to near adult size. After eight weeks the chicks are ready to migrate.
The mother osprey will depart the nest first before the chicks embark on their own journey to West Africa. The father osprey is the last to leave, providing food for the young for around two weeks before their departure, before leaving last himself.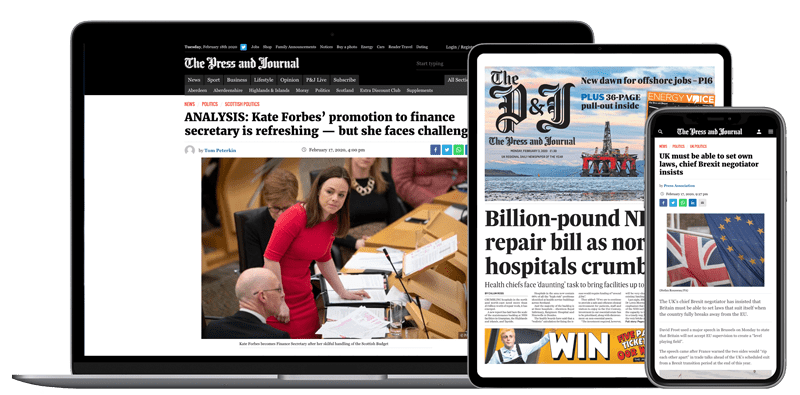 Help support quality local journalism … become a digital subscriber to The Press and Journal
For as little as £5.99 a month you can access all of our content, including Premium articles.
Subscribe