Motorists are being warned of delays between Inverness and Dufftown as a controversial Moray wind farm takes delivery of its blades and towers next week.
Turbine components for Dorenell Wind Farm south of Dufftown will start arriving on site in the week beginning Wednesday May 9.
Both turbine blades and tower sections are being transported from the port at Inverness. All deliveries will be accompanied by a police escort.
The development by EDF Energy on the Glenfiddich Estate, which attracted 600 objections, involves 59 turbines with a maximum height of 413ft.
A plan to increase the size of 35 of the turbines to 492ft was abandoned by the developer.
EDF Renewables project director John Penman said: "Our main priority is to cause as little disruption to road users as possible. We use a specialist haulage company with extensive experience in transporting very large loads like these turbine parts. We have already carried out a trial run which went smoothly."
Three lorry loads traveling in convoy will be leaving from the port of Inverness at approximately 9.30am each day and will take up to four-and-a-half hours to reach the site.
All deliveries will travel along the A96 from Inverness to Huntly then south on the A920 towards Dufftown and then onto the A941 towards the site in the Cabrach area.
Deliveries are expected to continue daily, except for Sundays, for 22 weeks.
The 177 MW wind farm was originally granted planning permission in December 2011.
EDF Renewables acquired the wind farm project from Infinergy in 2016.
As the deliveries continue EDF Renewables will provide regular traffic updates by radio. They are also providing a text messaging information service.
The wind farm came under fire from communities in Speyside, who said they were being short-changed by the development, as it was only making annual payments of £2,000 per MW of energy generated.
Scottish Government guidance says that communities should get annual payments of £5,000 per MW.
The developers argued that the guidance was published after the project was approved, and insisted there would be other non-cash benefits, such as a visitor centre,  better paths and countryside rangers.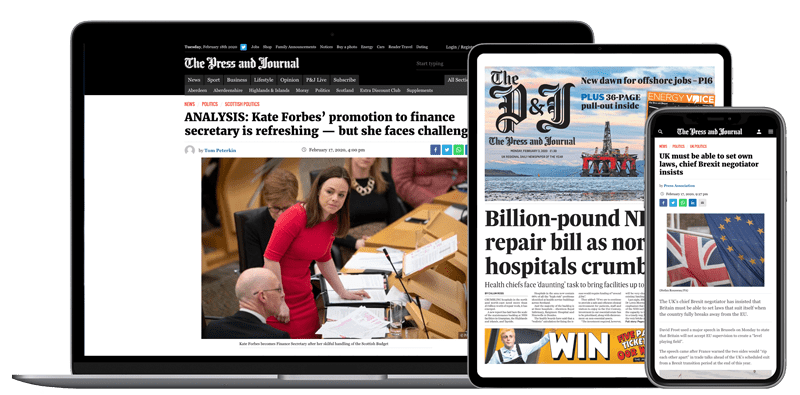 Help support quality local journalism … become a digital subscriber to The Press and Journal
For as little as £5.99 a month you can access all of our content, including Premium articles.
Subscribe