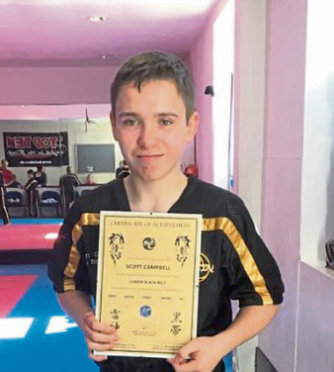 A 14-year-old kick boxing star from Alness is using his walk to training to raise for a world championship bid – covering a distance of more than 20 miles.
Scott Campbell will undertake the demanding feat from his home town to Inverness on May 31, to collect sponsorship money; which will be used for his upcoming trips to both Benidorm and Italy for the World Championships in October.
The young athlete currently trains three times a week with Raijin Martial Arts Academy in Inverness and is hoping his adventure – estimated to take him more than six hours to complete – will help him reach the £1,250 fee needed to participate.
Scott's mother Hailey Mcnaught, 40, said: "He is a dedicated boy; he will 100% do it. He is doing it on May 31, leaving at 11.30am to Inverness. He has had a few people say they will stop and do a few miles with him so that will be quite good.
"He says he doesn't want people going with him from the dual carriageway to Inverness, he wants to do that on his own. He aims to run the seven miles to Inverness and then he will then go into his kick boxing class."
Scott has been training for five years and was picked last month as a member of the Scottish kickboxing team for the competition.
The teenager has been sponsored by The Pat Munro Foundation, a family owner contractor company based in Alness.
A spokesman from The Pat Munro Foundation said: "The Pat Munro Foundation aims to support worthy causes within our local area, including youngsters looking to unlock their potential and grow as individuals.
"Clearly Scott fits this criteria, particularly as he is challenging himself with this walk/run from Alness to Inverness to assist his fundraising."