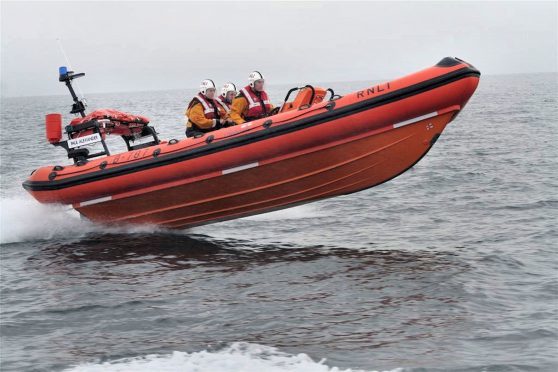 Scott Maclennan
The crew aboard a trawler that sank in around two hours "could not have done a great deal more" to save the vessel, an investigation has found.
The probe into the foundering of the Ocean Way by the Marine Accident Investigation Branch (MAIB) determined the hull had been breached a part of the vessel's own equipment.
But the crew were "not equipped to assess the risks posed by flooding and develop appropriate procedures."
It also noted Marine and Coastguard Agency (MCA) regulations had been contravened by the absence of an essential suction line.
The ship went down about 20 miles off Lerwick in March last year with all five crew members surviving.
The report, released yesterday, said the Ocean Way suffered an "uncontrolled flood" while attempting to bring its net up.
During that process one of the trawl doors – which are objects similar to large metal rudders that keep the net open – struck the hull.
The impact was great enough to create a breach estimated at between 6 – 17 square inches in size letting water flow into an airtight compartment.
The investigators concluded that "the flood was almost certainly a consequence of hull damage caused during the recovery of the port trawl door."
The crew battled to save the vessel using a portable submersible pump while the skipper radioed for assistance as they were still taking on water.
The RNLI lifeboat transferred two crew members to the Ocean Way in the open sea to help with salvage efforts.
But the situation continued to deteriorate with a pump breaking down and water beginning to enter the main aft section of the vessel through ventilation inlets.
With no prospect of recovering the situation it was decided that all crew members should abandon ship and were taken aboard the lifeboat.
The investigation found: "Once the aft compartment contained about 61 tonnes of seawater, the exterior sea level would have reached the escape hatch sill, resulting in inevitable loss through rapid downflooding."
The fact that each watertight compartment meant Ocean Way did not have one meant it failed to meet the Fishing Vessels (Safety Provisions) 1975.
Additionally, it was noted that absence of a bilge suction in the aft watertight compartment was not identified as a non-conformity during MCA surveys or inspections.
While on board training and drills had "not prepared the crew for the scale of flooding they faced on the day of the accident."