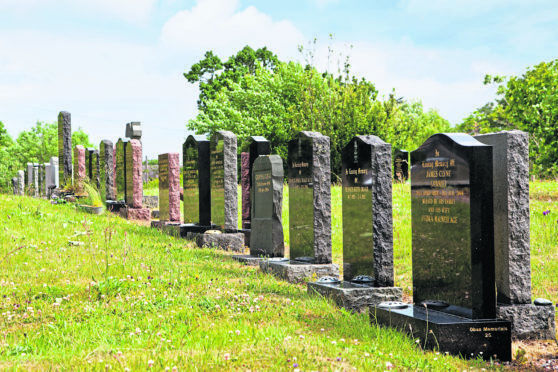 Council bosses in Argyll have insisted that nine lairs in the main graveyard in Tobermory is enough capacity for the next two years.
Argyll and Bute Council came under fire at the weekend after it emerged from a local undertaker that there were only nine lairs left at Beadoun Cemetery on Mull.
The town has a population of around 800 and Billy McClymont, owner of Mull Funeral Services, who is also chairman of Mull Community Council, said this was not enough.
A ban has been placed on pre-buying plots at the cemetery due to the shortage.
In our story on Monday, the council said they were lookingn to extend the cemetery, but said the process was in the early stages and dependent on funding.
But yesterday, a spokesman said: "Concerns have been raised with us about the availability of burial space on Mull. There is no need for concern. There are more than 600 lairs available across the various cemeteries on the island. At Beadoun in Tobermory, we have capacity for the next two years and are already in the process of investigating ways to expand that particular site."
Mr McClymont said earlier in the week: "The main cemetery in Tobermory only has nine lairs left. That is for a town with a population of around 800 and around 60% of the population is over 65.
"Calgary cemetery has been full for a number of years.
"If you are living in a community you want to be buried there, you don't want to be buried 30 miles down the road away from your family.
"People are running out of options."
The nearest crematorium is in Cardross near Helensburgh, 105 miles away on the mainland.
The council said that at the beginning of the financial year Beadoun had 13 lairs and there are an average of six interments there a year.
Councillor Mary Jean Devon said she had been raising the issue with officers for some time. She said: "I have been looking for answers about this for nearly two years. What I would like to know is where are all these other available lairs and why is there a moratorium on pre building lairs?"
Other cemeteries on Mull which the council has revealed still has lairs include Balure, 62; Calgary, six; Kilmore (Dervaig), 82; Kilpatrick, Duart, 243; Kilvickeon, 90; Pennygowan,
41; Suidhe, Bunessan, 108; and Iona, 23.
Carsaig, Kilfinichen and Lochdon cemeteries are all closed.