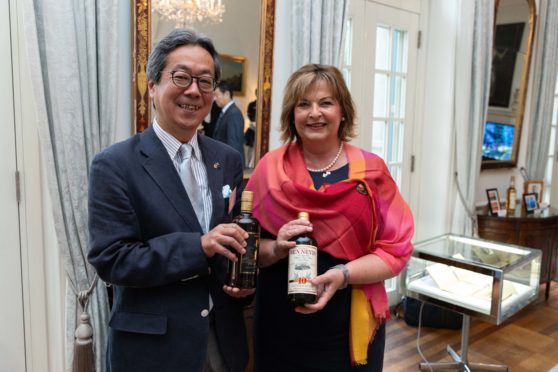 A Scottish Government minister has raised a glass to the centenary of an enduring business link between Scotland and Japan – and a shared love of whisky.
External Affairs Secretary Fiona Hyslop marked the role Scotland played in the foundation of drinks giant Nikka Whisky – a leading Japanese brand and owners of the Ben Nevis Distillery in Fort William – while on a trade mission to the east Asian nation.
Masataka Taketsuru, the founder of Nikka Whisky, famously travelled to Scotland in 1918 to learn the process of distilling malt whisky, working at distilleries across the country after studying at Glasgow University.
In 1920, he married Jessie "Rita" Roberta Cowan, from Kirkintilloch, before returning to Japan later that year, and going on to play a key role in the establishment of the Yamazaki distillery in 1924.
The Yamazaki distillery was the country's first whisky distillery and Mr Taketsuru's role in its creation earned him the title of "the father of Japanese whisky".
In 2011, the distillery produced the winner of the "world's best single malt whisky", and Scotch whisky exports to Japan are now worth more than £80million a year.
Ms Hyslop said: "Nikka whisky has deep roots in Scotland's whisky heritage.
"This year, Nikka celebrate 100 years since founder Masataka Taketsuru visited Scotland to study whisky production. He fell in love with Glasgow and met his future wife in the city.
"This week, I will aim to strengthen those bonds between Japan and Scotland that have endured for centuries, a relationship that will continue to  flourish.
"I want to thank the company for long-term relationship with Scotland via investment in their Fort William operation in whisky production, the Ben Nevis Distillery."
Ms Hyslop also praised the success of an education programme on subsea and marine development which was launched in 2016 between Robert Gordon University in Aberdeen, and the Japanese philanthropic organisation, the Nippon Foundation.
Now in its third year, 10 students will attend the subsea offshore summer school this summer.
Ms Hyslop said: "I thank the Nippon Foundation for providing ongoing support to its summer school programme in offshore engineering at Robert Gordon University. It has proven to be a great success over the past two years.
"These kinds of connections are incredibly important. The students coming to Scotland from Japan have an important role to play as part of the global exchange of ideas and expertise that will help us build a brighter future."