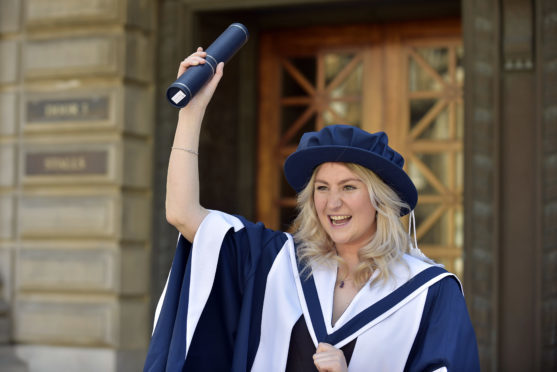 A Highland woman who persuaded Hollywood actor George Clooney to come to Edinburgh for lunch has received an honorary degree from Queen Margaret University (QMU) for her charitable work with the homeless.
Alice Thompson, co-founder of the social enterprise, Social Bite, received the degree of Doctor of the University, Honoris Causa, at a recent graduation ceremony in Edinburgh's Usher Hall.
She is a former pupil of Dornoch Academy and studied events management at QMU.
But she took a break from her studies to start an internship which led her to collaborate with co-founder Josh Littlejohn, launching Social Bite when she was just 21.
The campaigning organisation is now transforming the lives of homeless people.
The dynamic duo have helped establish five social enterprise cafes throughout Scotland, a high-end Edinburgh restaurant that feeds homeless people and other diners, and a "pay it forward" system where customers can buy food in advance for homeless people.
The team also ran Sleep in the Park, the world's largest sleep-out which took place in Edinburgh's Princes Street Gardens in December. During the event, crowds were treated to a bedtime story from John Cleese and breakfast rolls served by the First Minister.
With the £3.6 million raised from the sleep-out, the pair launched the Social Bite Village with 11 purpose-built homes for homeless people, located in Edinburgh's Granton area.
The new homes are beautifully designed timber-built compact homes, cosy and thoughtfully equipped, creating an alternative to the sub-standard and ineffective temporary accommodation solutions that are the norm.
Through this housing model, they are fundamentally challenging current approaches to tackling homelessness by giving the most vulnerable people a secure home with a support structure, helping them sustain their tenancy and re-integrate into society.
The scheme provides a package of accommodation, clinical support and employment at the Village, aiming to break the cycle of homelessness.
The Social Bite Village is part of their "600 Homes" campaign through which they aim to take a minimum of 600 rough sleepers out of homelessness in the next 18 months.
In addition to her achievements, Miss Thompson has also found time to host George Clooney, Leonardo DiCaprio, Prince Harry and the now Duchess of Sussex, Meghan Markle, at Social Bite cafes.
Professor Petra Wend, Principal of QMU, said: "Her (Alice's) story helps to demonstrate what is achievable when people combine raw enthusiasm, flexibility, partnership and a deep-felt social conscience.
"Her work fits perfectly with QMU's commitment to social justice and our drive to support social enterprises."