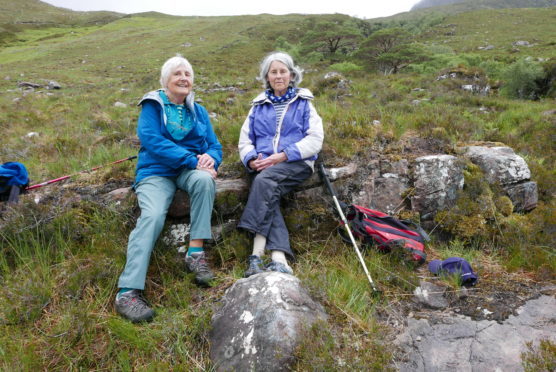 Two Highland women are celebrating nearly 15 years of friendship, thanks to their love of walking and the great outdoors.
Marylynn Burbridge, 70, and Janet Whittington have been friends since 2004, and are walk leaders at the Poolewe based Step it Up Highland (SIUH) walking group – supported by Scotland's walking charity Paths for All.
Along with four other leaders, the duo enjoy planning routes for members of the community who are available to step out on a weekday morning.
Mrs Burbridge, a former school teacher from Somerset, says her flourishing friendship with ex-librarian Mrs Whittington, 80, has been a great motivation.
Mrs Burbridge said: "Janet and I have been friends for 14 years. My husband and I first met the Whittingtons at a party and then regularly at Poolewe swimming pool.
"They encouraged us to join them in the Healthy Hearts walking group which we did in 2005. Janet and I discovered that we shared many interests as we talked and walked with what became SIUH.
"With this group we go on a variety of walks, one of our favourites being the scenic Pinewood Trail opposite Inverewe Garden. This area has easy, medium and harder options, allowing the confident walkers to tackle the gradients and those with more limited mobility to follow a gentler route."
The group has up to 20 members and guests attending the Monday outings and they come together after all walks to socialise.
Mrs Burbridge said the official walks are currently suspended for the summer holidays but they are currently running informally as "summer strollers" during the break.
She added: "Walking with Janet and the group has really contributed to my well-being. I feel compelled to get up and go, regardless of the weather and have found a real sense of companionship."
When not pulling on their walking boots and stepping out into the fresh air, Mrs Burbridge, of Big Sand, and Mrs Whittington, of Mellon Charles, don gardening gear as volunteers at the National Trust for Scotland's Inverewe Garden.
The enthusiastic amateurs meet with others on a weekly basis to be tasked by the professionals to weed, rake, tidy or harvest, depending on season and location.
Mrs Burbridge described the gardening activities as "therapeutic" and a useful and healthy way to interact with each other.
The pair also regularly visit each other's homes for meals, relaxation and board games.
Living about 19 miles away, the friends belong to different book groups but meet monthly at Gairloch Library's reading group.
Eden Court theatre is another great attraction for the pair, who regularly go with friends to see plays, films, concerts and the ballet.
The duo are also members of the local U3A (University of The Third Age) which devises a variety of stimulating talks, events and visits.
Mrs Burbridge added: "It's lovely to reflect that being part of a walking group has enabled me to know and like someone with so many of the same hobbies and interests."
The pair are celebrating their friendship ahead of National Friendship Day on Monday.
There are more than 550 health walks running across Scotland every week. For more information, visit www.pathsforall.org.uk.
Paths for All is a partnership of organisations committed to promoting walking for health and the development of multi-use path networks in Scotland.
Their aim is to significantly increase the number of people who choose to walk in Scotland, to create a happier and healthier Scotland.