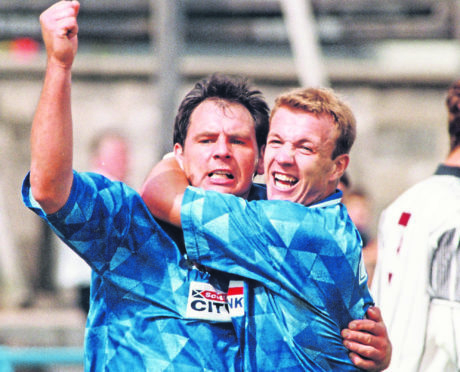 Tributes have been pouring in for Inverness Caledonian Thistle "great" Alan Hercher, who has died at the age of 52.
He had endured a short battle with cancer and it is understood that he passed away at home yesterday morning.
He remains fondly remembered both by team mates and supporters for his performances on the field and his conduct off it.
As the much-loved first club captain of Inverness Caledonian Thistle he is perhaps best remembered for scoring the new club's first ever league goal in 1994.
Then the following week he scored the club's second fastest hat-trick in a 5-2 home win against Arbroath.
Former team mate Graeme Bennett, who set up two goals of for the now famous hat-trick against the Smokies, remembers him as "a fantastic man and a fantastic player."
He said: "He scored the first competitive goal at East Stirling and in the league the following week he got a hat-trick in under 30 minutes.
"He has a special place in Caley Thistle folklore. He was a great man, very down to earth, got on with everyone, and he was a gentleman on and off the field."
He added: "My best memory of him was the hat-trick – all three goals were headers and I crossed two of them – and I think that was also true for himself. I used to joke that he didn't move much because the crosses were so good."
Mr Bennett said: "I spoke to him after he was diagnosed a couple of months ago and he was fortunate to be in the care of his loving family."
Steve Paterson was ICT's longest serving manager and spent two seasons with Mr Hercher before he departed to play at Clachnacuddin in the latter stages of his footballing career.
The former manager, known fondly to fans as 'Pele', said he was "really, really sad at hearing the news".
He added: "Hercher was just a tremendous guy, he was one of the best and in 30 years as a manager he would be in my all-time top squad. As a player he was an absolute dream to work with because in training or on the pitch he gave his heart and soul – he was just a great guy.
He added: "I'm just sad about the news, coming so soon after we lost Neale Cooper as well who was just 54 and I believe Alan was 52. My heart goes out to the family and to his wife and kids. Hercher will always be remembered by older supporters."
Mr Hercher's former club also released a statement following the tragic death, saying: "Inverness Caledonian Thistle is deeply saddened to learn of the passing of its first club captain, Alan Hercher, who has died at the age of 52.
"Sincerest condolences are extended to his wife, Karen, and children, Alan and Claire as well as family and friends of the very popular former player."
Long time friend and team-mate Charlie Christie, who is head of youth at ICT, said: "'Alan was more than a terrific football player; he was a terrific individual who was hugely respected by all those who played alongside him and against him.
"It was fitting he scored the club's first ever hat trick in the Scottish League and he followed this up with so many important goals for the club in our early years. Big 'Herchie' was a truly great Highland footballer who will be sorely missed by me and by so many others.
"From Beauly, Alan began his career at Ross County before signing in 1986 for Caledonian where he made a name for himself as a powerful box-to-box midfield player with a flair for scoring goals."