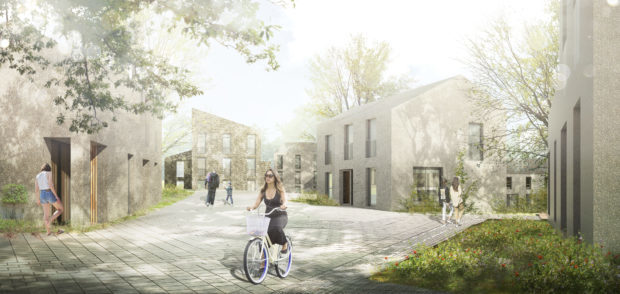 A major development which will help Oban to grow was approved by Argyll and Bute Council's planning committee yesterday.
The 300 affordable houses at Dunbeg are being developed by Link Group social housing body. Of the total, 89 are to be one-bedroom flats; 141 two-bed houses and flats (mostly houses); 67 three-bed houses and flats and 13 four-bed houses.
Planning committee members agreed with the officers' recommendation for approval.
Policy Lead for Planning and Regulatory Services, Councillor David Kinniburgh, said: "The Planning, Protective Services and Licensing Committee was pleased to approve the application by Link Group Ltd for 300 houses at Dunbeg.
"This represents a £3.6million investment from the council, through its Strategic Housing Fund, to ensure that Oban has the affordable housing its residents need and deserve.
"It was a challenging site to develop, but the mixture of housing options, recreational spaces for young people and exceptional natural location will make it a sought after place to settle. The prospects for growing our population, the economy and Oban's place as a university town are very exciting."
The council previously agreed a masterplan for the development at Dunbeg. However, the new detailed application will see the homes built on a "slightly more compact and condensed" site than originally planned.
Officers still believed that the amended proposal was acceptable.
In a report before councillors, planner David Moore wrote: "Economic benefits and potential job creation will also be a potential material consideration in respect of the proposal.
"It has been confirmed that a local building company has been appointed to construct the development. The use of a local and not national builder ensures that economic benefit is likely to be maximised for the local area."
The report also highlighted that in respect of window-to-window privacy a small number of the homes do not accord with the required privacy standards and room-to-room distances.
Mr Moore commented: "Generally such matters are not acceptable and contrary to good planning and amenity protection. This however represents some five per cent of the overall number of dwellings and mitigation in the form of tree planting to address these conflicts is now proposed.
"On balance, and as a matter of planning judgment it is considered that a minor departure from policy can be accepted in this case given the specific circumstances of the site and masterplan aspirations which have informed the current design approach."