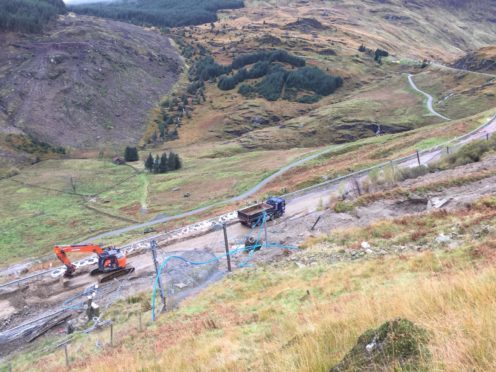 The A83 Rest and Be Thankful road in Argyll has reopened after several landslides forced closures lasting more than a week.
Traffic was shut off from the Rest And Be Thankful since thousands of tonnes of debris reached catch-fences above the carriageway on October 9 following heavy rain.
Motorists initially faced a 60-mile reroute, as the Old Military Road alternative route was also affected by boulders which had fallen during the incident.
Road operating company BEAR Scotland said around 3,000 tonnes of debris has now been cleared from the fences and roadway on the A83, fence repairs have been carried out and additional drainage installed.
Following a final safety assessment and police check the road was reopened at around 11.20am on Thursday.
Temporary traffic lights will remain in place for safety while teams working on landslip mitigation measures.
A 24-hour recovery vehicle and additional patrols will be laid on for the next few days to help keep traffic moving during the reopening.
Eddie Ross, BEAR Scotland's north-west representative, said: "Following a full safety assessment this morning along with representatives from Police Scotland, we were pleased to reopen the A83 at the Rest and Be Thankful following the multiple landslides last week.
"Teams from multiple organisations have worked tirelessly in what has been challenging conditions to do all they can to secure the slope above the road, repair the fences and keep the Old Military Road and other routes into Argyll open."
He also thanked the local community and road users for their patience.