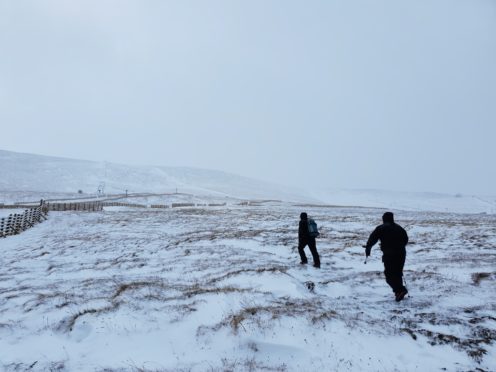 The beleaguered Cairngorm Mountain was dealt another blow at the weekend – but this time it was the weather causing problems, leaving the resort without power for 18 hours.
Across Scotland's five main ski resorts, the weather – in spite of the snow –  saw no higher level skiing at the weekend with windy weather, and poor coverage opening up very little in the way of sports.
An 18-hour power cut in the Cairngorms, caused by Storm Deirdre, led to a complete closure of the hillside.
A statement from Cairngorm operators said: "We are recovering after Deirdre's wee visit over the weekend, which has left us a few things to sort out.
"We have all sorts of issues with our IT systems, fire, sprinkler and water systems. Some building damage and damage to our waste water plant has also become apparent.
"On the bright side, snow factory production has restarted and with a bit of help from Mother Nature, the beginner area is starting to take shape."
There is no skiing so far in Glen Nevis. A spokeswoman said: "We are nearly there.
"We were not open for snow sports at the weekend, but we had a very busy day as the gondola is open and we have had good numbers coming up onto the hill."
At The Lecht, in Aberdeenshire, a spokeswoman said: "There was snow at the weekend, but it was so windy it was blown away.
"We need enough snow to cover over the heather and then we can take the groomer down it and get ready for some great skiing."
At Glenshee, near Braemar – roads were closed on Saturday in both directions due to snow, but ironically not "quite enough" for skiing on the higher hills.
A spokeswoman for Glenshee said: "Last year we skied for two weekends in December, so it is a slower start to the season."
At Glencoe, the snow machine has been producing snow and helping to get the lower slopes open.
A spokeswoman said: "On Saturday we were weathered off.
"On Sunday we are still in the 300 metre loop round the Coire Pollach. There is plenty of snow for sledging, but not enough for skiing on the higher slopes."